Amazon Prime members now get exclusive free mobile game loot and perks
If Amazon's Prime offers weren't sweet enough already, the company is now adding yet another perk for gaming fans. Technically speaking, this promotion is part of Twitch Prime, which is where the content naturally fits in and takes its place amid other ongoing campaigns, like a year of Switch Online and free monthly games on PC.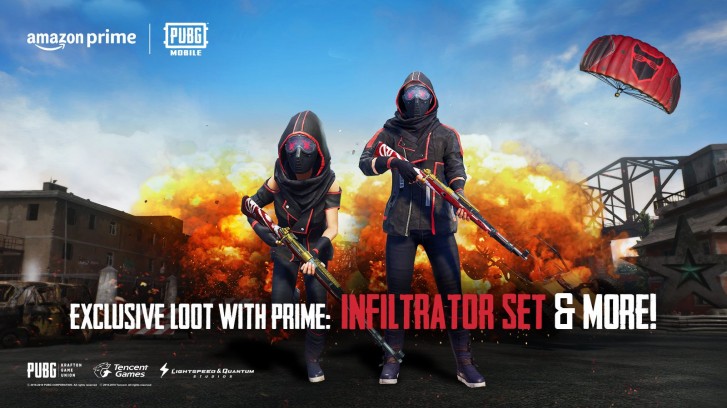 Unlike those, however, this new initiative is branching out to mobile gaming. The initial wave has an Infiltrator set of PUBG Mobile items up for grabs by Prime members. The first item from the set is already live, while the rest will come according to the following schedule:
Drop 1, 9/20/19–10/3/19: Infiltrator Mask (permanent item)
Drop 2, 10/04/19–10/17/19: Infiltrator Jacket (permanent item)
Drop 3, 10/18/19–10/31/19: Infiltrator Shoes (permanent item)
Drop 4, 11/01/19–11/14/19: Infiltrator Pants (permanent item)
Drop 5, 11/15/19–11/28/19: Epic Level Gun, Blood Oath — Kar98 (30-day use token)
Drop 6, 11/29/19–12/12/19: Epic Level Black Magma Parachute (30-day use token)
To redeem the items on either Android or iOS you have to go through the PUBG Mobile app. Also, have your Amazon and Twitch accounts linked and naturally, have an active subscription to Prime. A trial will work as well, but Ethan Evans, VP for Twitch Prime, did reveal that more mobile game benefits are on the way in future promotions, which you might not want to miss out on.
Now, no matter what platform you play on -- whether console, PC, or mobile -- there are Prime game benefits for you … We're starting with exclusive content for PUBG Mobile, one of the biggest mobile games in the world, and in the coming months, we'll roll out benefits for some of the most popular mobile games across many favorite genres.
Apparently Amazon has already partnered-up with some major companies, including EA, Moonton, Netmarble and Wargaming Mobile and intends to keep the freebies coming on an ongoing basis. Hit up the source link for more details on the promotion, since some restrictions do apply. For one, China, Taiwan, South Korea, Japan, Vietnam, India, or embargoed countries won't be getting the deals.

R
Do you get anything for cod mobile when signing up for amazon prime
k
there's no pubg mobile its a great game but a disgrace to the gaming community for its lack of skills against hackers. CALL OF BUTY M #ohhboi I'm waiting more eagerly than I was for #daysgone
ADVERTISEMENTS