A lot of people are waiting for the MeeGo-running Nokia N9 to hit the shelves, but only those living in Switzerland had an actual date to look forward to until now. Luckily, Amazon comes to the rescue with its Nokia N9 listing, which promises to fulfill all orders on September 23rd.
All three color versions of the Nokia N9 are listed, but there's no price mentioned so you might want to take this with a pinch of salt. It might end up a publicity stunt by Amazon or some of its sellers.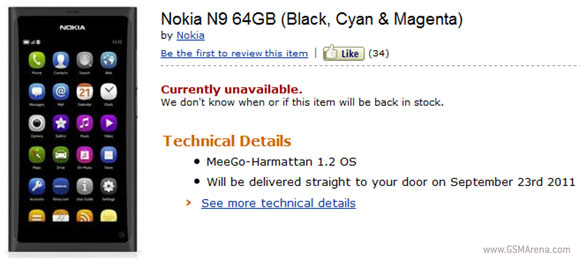 We'll remind you that Nokia said that it won't be bringing the N9 to the US officially, so it will be up to the sellers to bring it there. And if the Orange Switzerland September 15th claims are to be believedр the September 23rd date makes quite a lot of sense - a week is what we would expect the shipping from Europe to US and the formalities to take.
B
Since this phone has been released, where can I go to order this phone? I am interested and want to test it out.
S
Only wishful thinking, gullible idiots believe they may actually have this phone on September 23rd I'm afraid. I want an N9 as much as the next guy, but we're not exactly dealing with professionals (Nokia) here. They've been yanking our chains with r...
K
What's new in this phone ?
ADVERTISEMENTS