AMD today announced the Radeon RX RX 6000 series of gaming graphics cards. Built on the new 7nm RDNA 2 architecture, these cards provide up to 2x improvement in performance over the previous generation AMD flagship while also including support for the new Microsoft DirectX 12 Ultimate API and will be available starting November.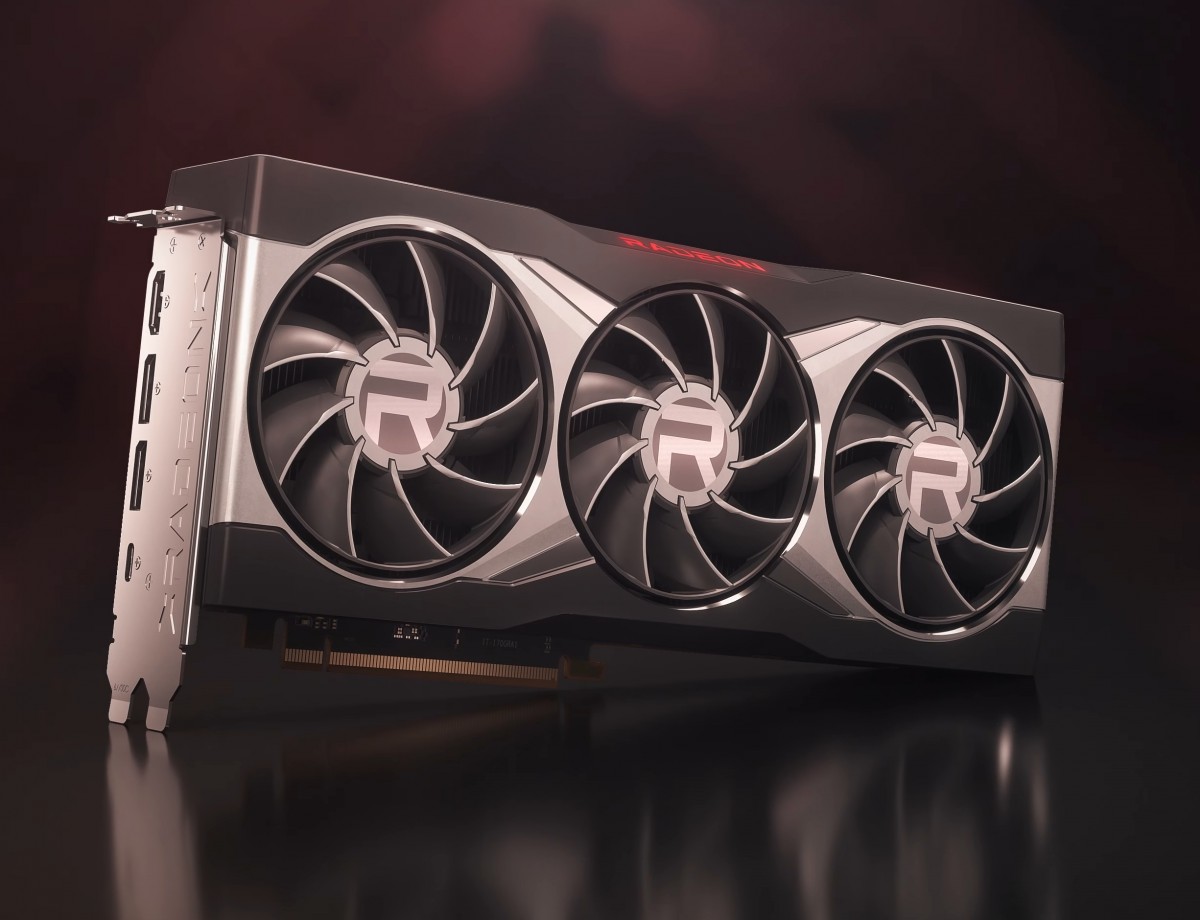 The most important card in this series will likely be the $649 Radeon RX 6800 XT. It features 72 compute units and 16GB of 16Gbps GDDR6 memory on a 256-bit wide memory bus. The 6800 XT can clock up to 2015MHz under load (or Game Clock as AMD likes to call it) and can occasionally hit peaks of 2250MHz for short durations under ideal conditions (Boost Clock). AMD claims a total board power of 300W for this card.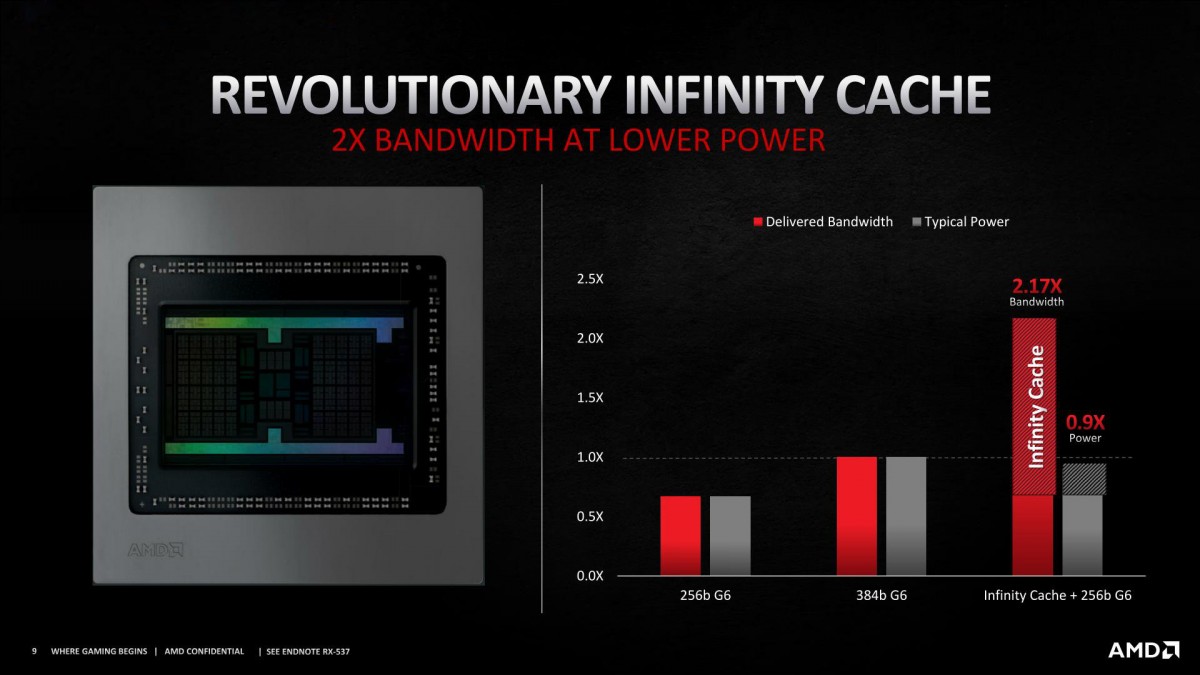 The 6800 XT also has 128MB of what AMD calls the Infinity Cache. This is high-density, high-speed cache based on the Zen L3 cache. It is designed to minimize DRAM bottlenecks, latency, and power consumption and is especially effective at 4K and 1440p resolutions. Combined with the VRAM, AMD claims the Infinity Cache offers 2.17x the effective bandwidth of a 384-bit wide GDDR6 memory.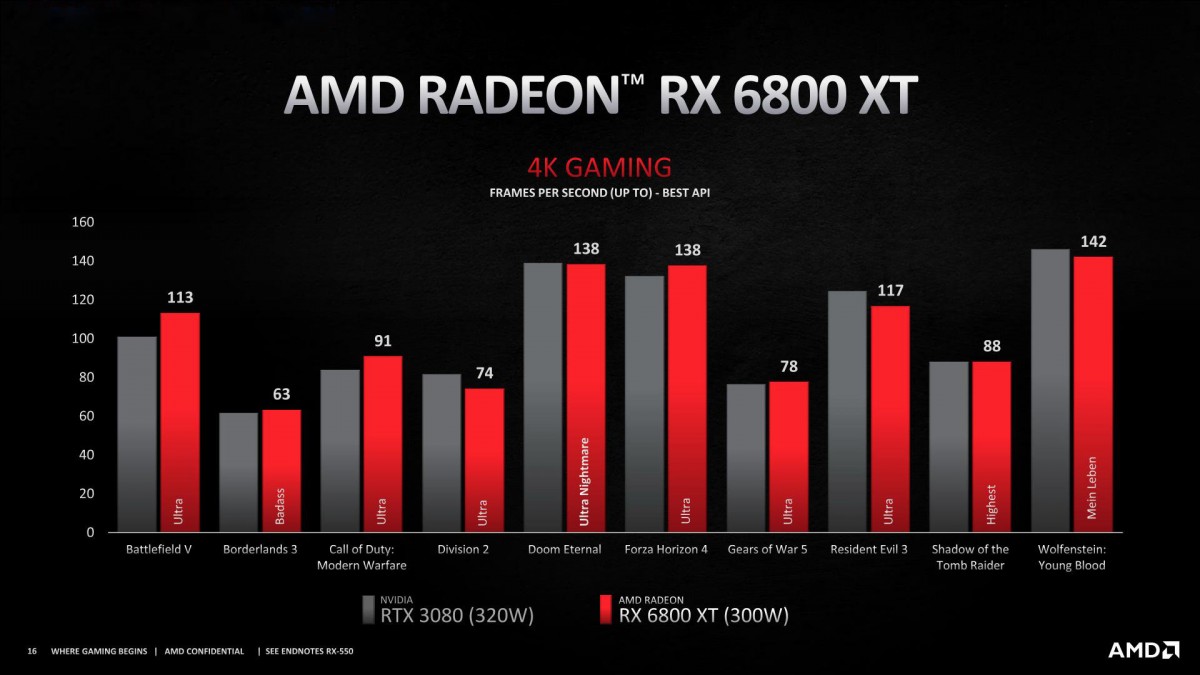 AMD also had some charts to show comparing the performance of the 6800 XT to the $699 RTX 3080. We usually take these with a grain of salt but in the absence of any reliable third-party reviews, these can be taken as a rough guidance.
Next is the $579 Radeon RX 6800. Despite being cheaper, the 6800 doesn't lose out on much compared to the 6800 XT. The major difference is to the number of compute units, which has dropped from 72 to 60 due to one of the shader engines being disabled. The "Game Clock" has also been dropped down to 1815MHz with the Boost Clock down to 2105MHz.
Despite that, the Radeon RX 6800 will still have the full 16GB 16Gbps GDDR6 memory and 128MB Infinity Cache. And because it's a bit slower, the board power has also dropped down to 250W instead.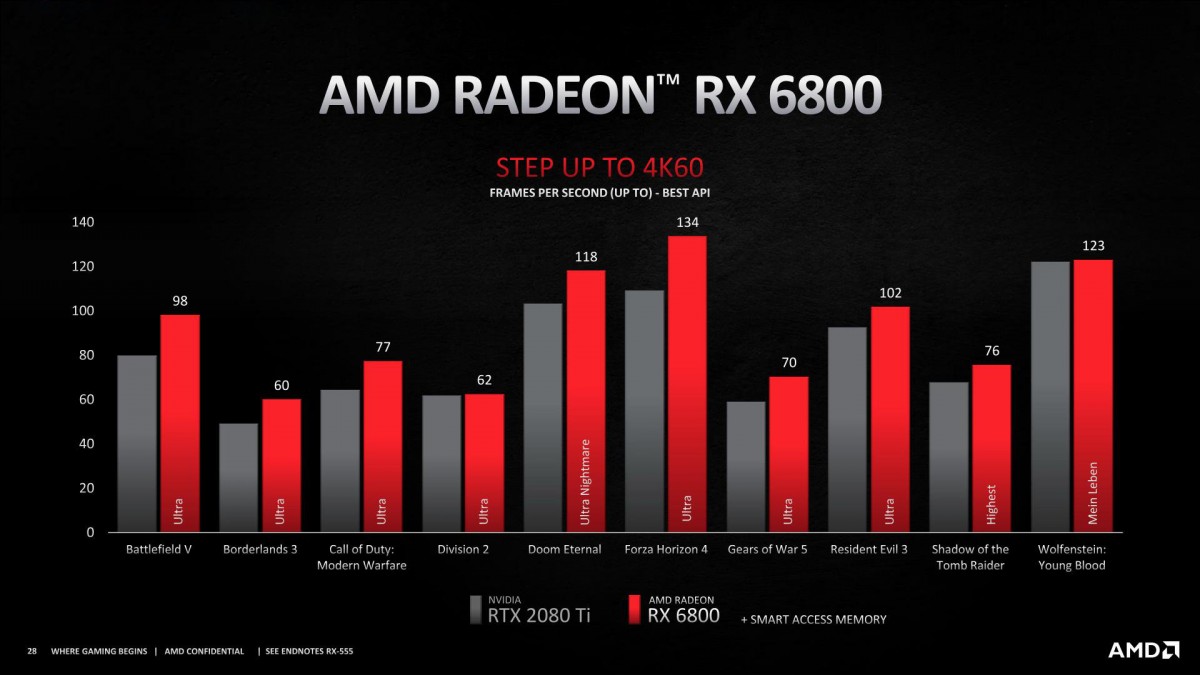 The 6800 will mostly compete with the $499 RTX 3070, even though it's more expensive. AMD claims in its charts that the 6800 is faster than the RTX 2080 Ti, which has similar levels of performance as the RTX 3070. However, we would take this chart with an even bigger pinch of salt as it makes use of a feature called Smart Access Memory, which we will discuss shortly.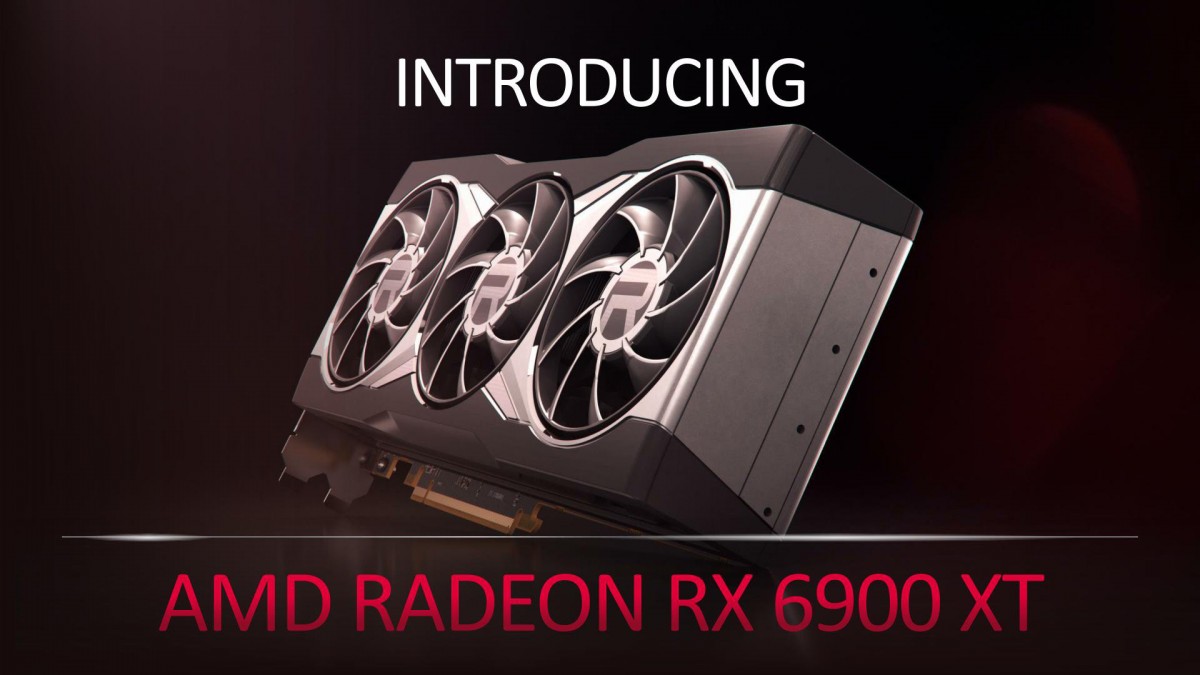 Lastly, there is the flagship Radeon RX 6900 XT. This $999 graphics card comes with the full complement of 80 compute units along with the same game and boost clock speeds as the 6800 XT. The rest of the specifications are similar as well.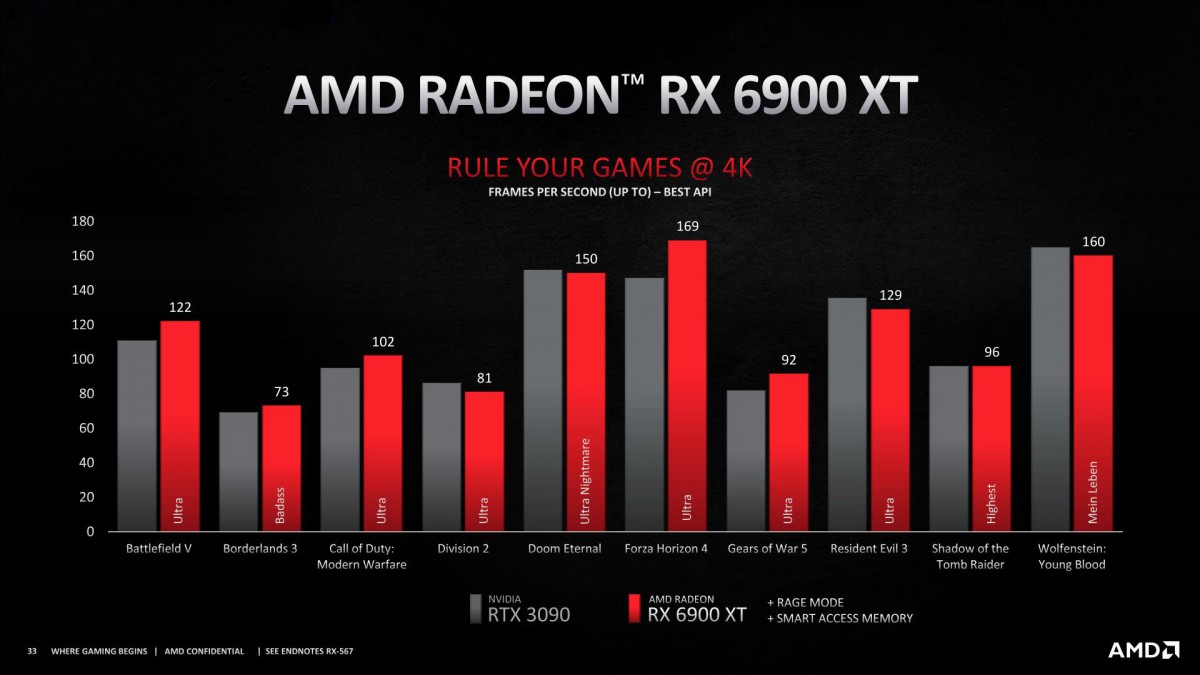 AMD decided to take a swipe at the lofty $1499 RTX 3090 with the 6900 XT in its comparison charts. This time, however, we would suggest a small teaspoon of salt as these results are taken with Smart Access Memory and something called "Rage Mode" enabled.
So what is this comically named Rage Mode? AMD calls it a one click overclocking solution. According to Gamers Nexus, Rage Mode unlocks the power targets on these cards so they can clock higher. It doesn't actually overclock the card itself, just removes some of the power restrictions that could prevent it from clocking higher in some instances. For manual overclockers, this is nothing new but those who are either new or uncomfortable with overclocking can just click this one button and hope it does something.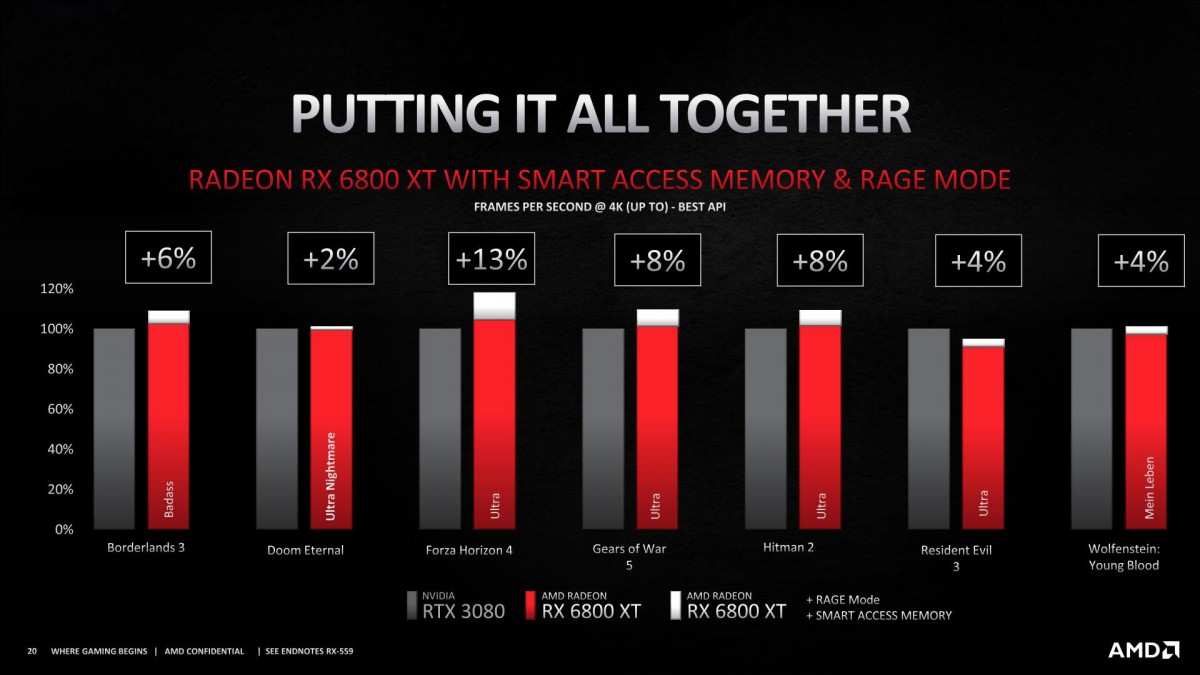 As for the aforementioned Smart Access Memory, this one's a bit more interesting. For this to work, you need a Radeon RX 6000 series GPU, a Ryzen RX 5000 series desktop CPU and a 500-series chipset motherboard. Once you have this trifecta and enable an option in BIOS, it allows the CPU access to the full 16GB VRAM on the graphics card, which supposedly reduces memory fragmentation on the VRAM and improves performance.
Within AMD's test samples, they say anywhere from single digit to low double digit gains in performance with Rage Mode and Smart Access Memory enabled on the 6800 XT.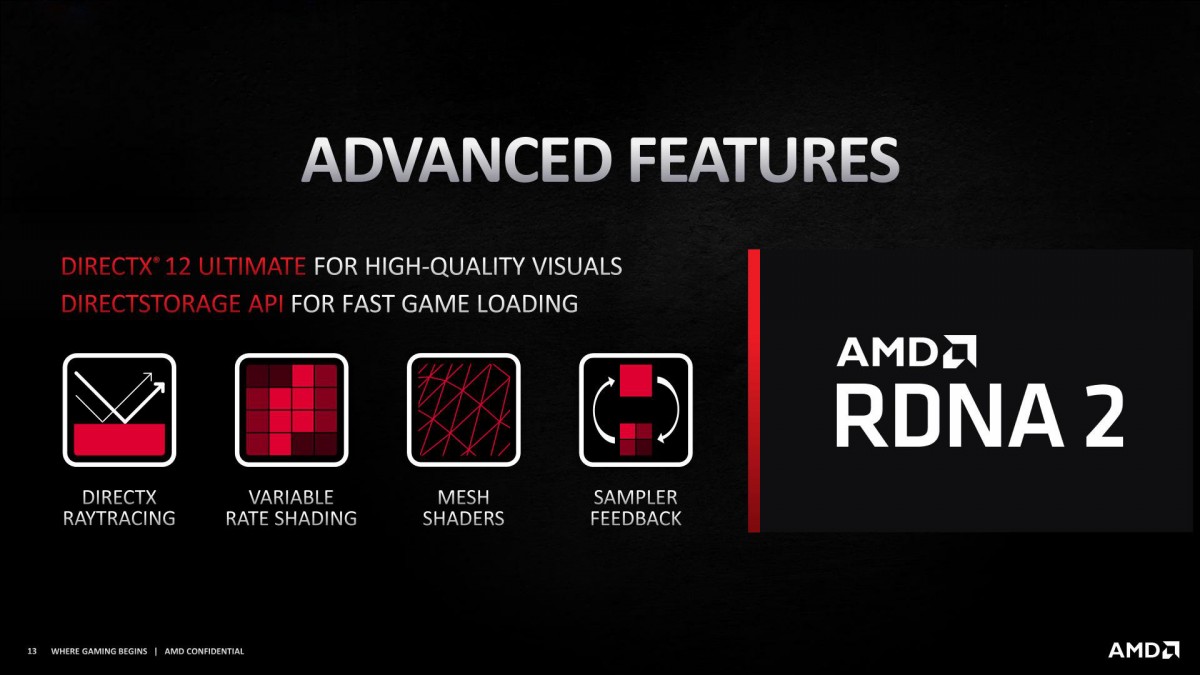 RDNA 2 also includes support for Microsoft's DirectX 12 Ultimate API. This enables support for features like hardware-accelerated ray tracing, variable rate shading, mesh shaders, and sampler feedback, features that were previously only available on select NVIDIA GPU.
Ray tracing will likely be the one most were looking forward to. AMD announced a handful of titles that will be available soon that support ray tracing on AMD cards, although technically nothing really stops the existing titles such as Control, Metro Exodus, Battlefield V, etc. from working on RDNA 2 hardware since they are all based on Microsoft's DXR implementation. It will be up to AMD to enable support for them in its drivers. Eventually, all DXR based titles should work on all RTX, Radeon RX 6000, and Xbox Series X|S hardware.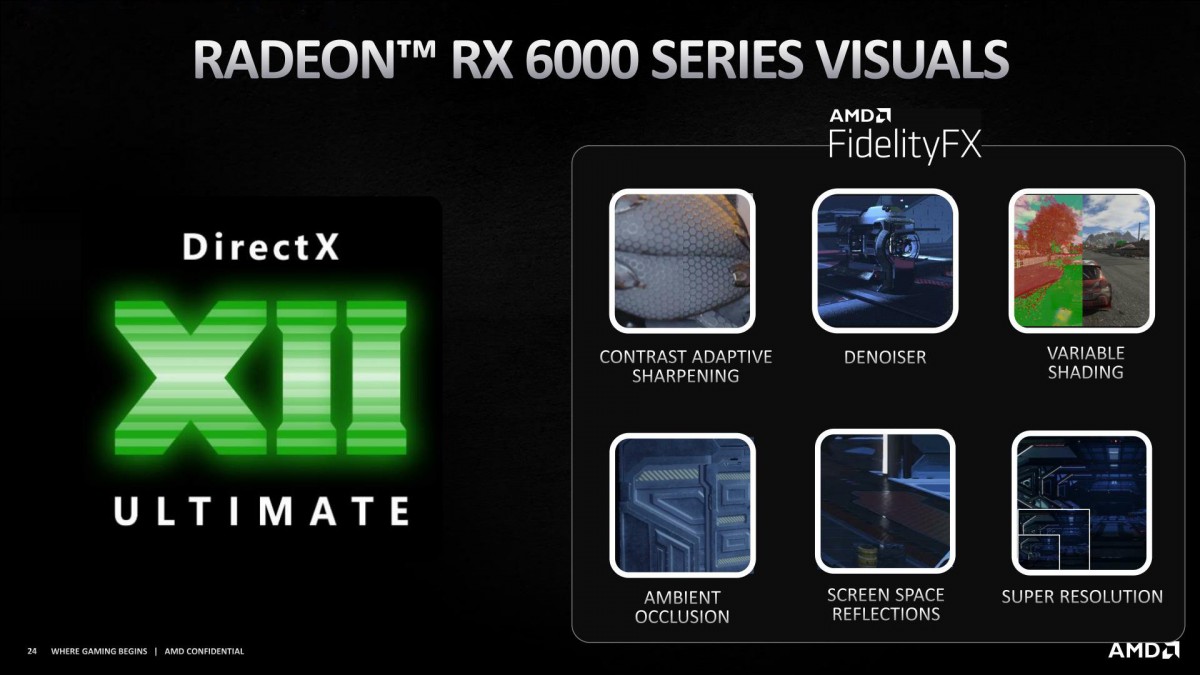 AMD is also supporting the Microsoft DirectStorage API, which aims to improve load times and improve texture quality. Along with that, the company will continue to support its own technologies, such as AMD FidelityFX, Radeon Anti-Lag, and Radeon Boost.
What's missing from AMD's arsenal for now is an alternative to NVIDIA's DLSS or deep learning super sampling. This enabled AI-assisted upsampling of game assets using scans of high resolution assets, which results in close to native resolution image quality but with a lower rendering budget.
AMD has promised a technology called Super Resolution, which seems similar to DLSS but provided no further details that would let us know how well it would work. The feature is also still in development and won't be available for some time after the launch of these cards. That should put a severe dent in AMD's ray tracing performance compared to NVIDIA's DLSS, which is likely why AMD hasn't announced support for existing DXR titles as most of them have some form of DLSS.
Now for availability. The RX 6800 and 6800 XT will be available starting November 18 for the aforementioned prices of $579 and $649 on AMD.com. The RX 6900 XT will be available starting December 8 for $999. Cards will also be available from the usual board partners, such as ASRock, ASUS, Gigabyte, MSI, PowerColor, SAPPHIRE, and XFX in November.
C
What are you going on about that NVIDIA offers support for Linux, like that is some sort of accomplishment? AMD has had Linux in the bag and checked out for sone time now lol. Why because it's ooen source. Might want to go check your ...
A
You are wrong dude. Recent leaks claim that Nvidia is still best for many reasons. SOME OF Them are 1.DLSS 2.0 2. Produces best performance and stability out of box with support to even Linux. 3. Powerful RTX cores and hardware based R...
?
You saying that AMD "only consumes more power" shows that you're stuck in the past. When you look at the Ryzen 5000 series, it is superior in both efficiency and performance - in gaming as well. We'll see how close the rx6000 GPUs...
ADVERTISEMENTS