Following the launch of Ryzen 7, AMD has announced the second tier of its desktop CPU lineup, the Ryzen 5. Unlike the Ryzen 7, which targets the high-end of desktop computing, the Ryzen 5 is aimed at the mid-range and will compete with the more affordable Intel Core i5 series.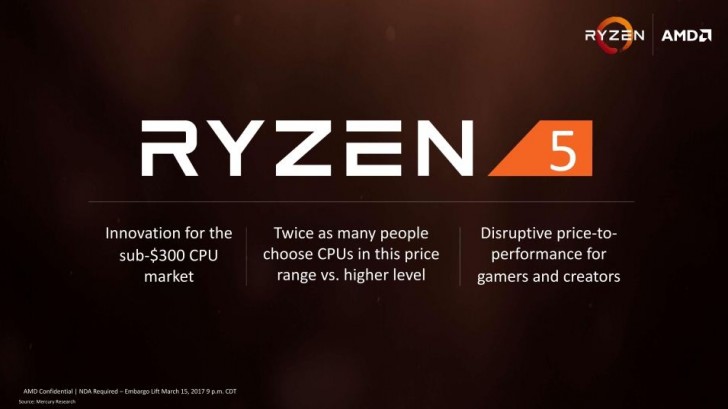 The current lineup includes four SKUs, starting with Ryzen 5 1600X at the top, followed by Ryzen 5 1600, Ryzen 5 1500X, and then the Ryzen 5 1400 at the very bottom.
The Ryzen 5 1600X is a 6-core part with 12 threads, 3.6GHz base clock speed and 4.0GHz boost clock speed and 100MHz XFR boost with certain coolers, 16MB L3 cache, 95W TDP and a pricetag of $249.
Ryzen 5 1600 has the same core count but 3.2GHz base clock and 3.6GHz boost clock and is a 65W TDP part, which is priced at $219. It will come with AMD's new Wraith Spire cooler.
Ryzen 5 1500X has 4 cores and 8 threads with 3.5GHz base clock and 3.7GHz boost clock with 200MHz XFR boost and 65W TDP. It is priced at $189 and will be available with the Wraith Spire cooler.
Lastly, there is the Ryzen 5 1400, which has the same core and thread count as the 1500X with 3.2GHz base clock and 3.4GHz boost clock with 50MHz XFR, 8MB L3 cache, and 65W TDP. It costs $169 and comes with the Wraith Stealth cooler.
All four parts feature an unlocked multiplier for overclocking.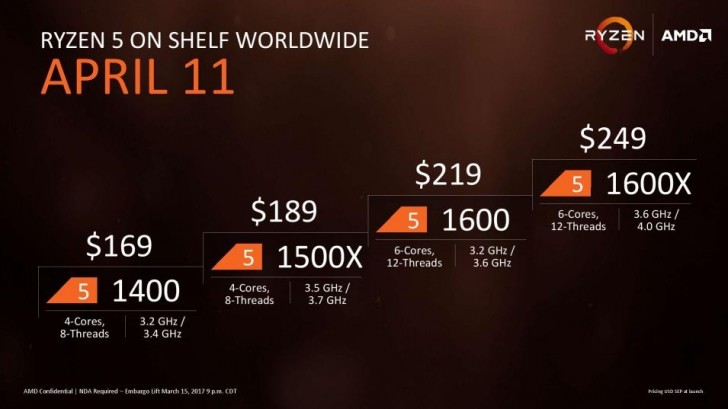 Like the Ryzen 7, AMD is marketing the Ryzen 5 for its core count and multithreaded performance. According to AMD's testing, the 1600X posted 69% higher score in Cinebench in multithreaded benchmark compared to the Core i5-7600K. Unlike the AMD parts, all the Core i5 processors have 4 physical cores without Hyper-Threading, which affects their multithreaded performance. However, as we saw with Ryzen 7, it is likely that Intel will still beat AMD when it comes to single-threaded performance. As we have seen time and again with games and most other applications, single-threaded performance is more important, with multi-threaded performance only being relevant to things such as video editing or if you have other things running in the background during gaming, such as video streaming.
The Ryzen 5 is based on the same AMD AM4 platform as Ryzen 7 with same basic feature support. None of the parts have an integrated GPU so a dedicated GPU is a must, which shouldn't be an issue for those interested in gaming. All the parts will go on sale on April 11.
?
I agree can't wait baby!!!
A
More likely than not, Intel will wait for the next architecture and paint that much needed "sanity-check" as a major improvement of that architecture. Business 101.
K
I agree.... this thing just killed half of Intel's lineup. There's no need for Pentiums, Celeron's, or Core i3's anymore. If anything, Intel would be wise to move their entire products down one category for instance: Core i3-8100 - $80 - 2C/...