AMD just announced its "Bristol Ridge" and "Stoney Ridge" 7th Generation APUs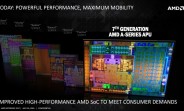 As expected, AMD had some big announcements lined up for Computex this year. The company officially unveiled its new, 7th generation APU lineup for use in notebooks. The new family is actually divided into two segments - high-end, codenamed "Bristol Ridge" and low-end - "Stoney Ridge".
Both are based on updated Excavator cores. These are largely similar to the ones employed in the 6th gen Carrizo models, improving even further on what was widely held as AMD's best take on APUs since the original Bulldozer architecture.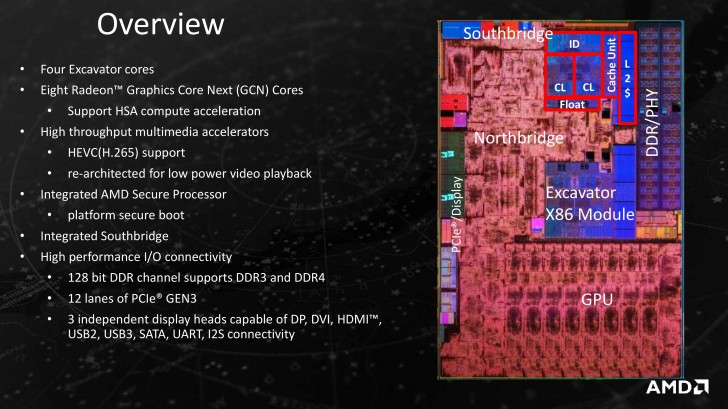 The Excavator updates in question are numerous and cover things ranging from the all-important DDR4 support to various tweaks in the 28nm Bulk CMOS physical design, as well as improvements in AVFS (adaptive voltage frequency scaling), which all add up to higher frequencies and a quoted 10% performance increase over last year's Carrizo and a whopping 56% over the 2014 Kaveri lineup.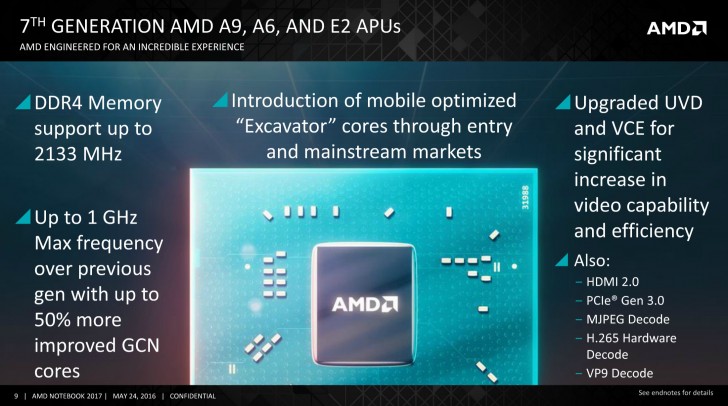 There are a lot more details and improvements, but we won't risk going into too much technical detail. As for the two-tier system we touched upon briefly, AMD is taking extra steps to make sure consumers can easily tell the two apart, so as to clear some of the confusion from Carizzo.
Starting with the lower end "Stoney Ridge", chips will carry the A9, A6 or E2 brands with "7th gen" also written on the label to avoid additional mix-ups. These processors will offer one Excavator module, probably advertised as dual-core, with a default TDP of 15W. Configurable TDP is still a thing, with the A9 possibly scaleable at up to 25W and hopefully, this time around OEM will start offering said customizability on a BIOS level.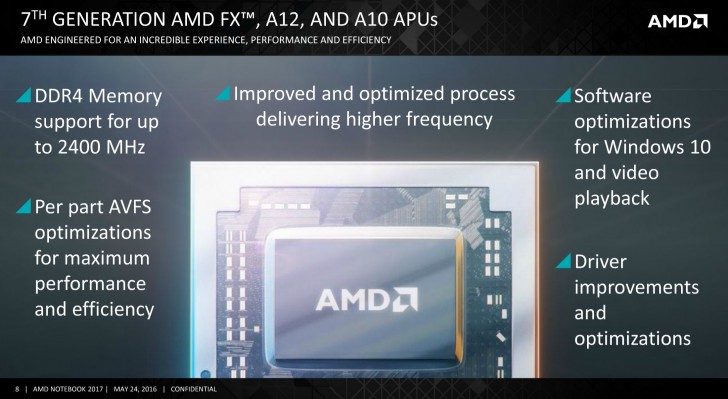 The "Bristol Ridge" units will adopt the A10, A12 and FX monikers, as before, with the FX-9830P, as the top-of-the line offer. They will also bear the "7th gen" badge to indicate the use of the same new Excavator modules, but two of them, advertised as quad-core. "Bristol Ridge " models will also have a "P" at the end of their name and will be offered in one of two TDP presets - 15W or 35W. As with their siblings cTDP is still present and left to OEMs to implement.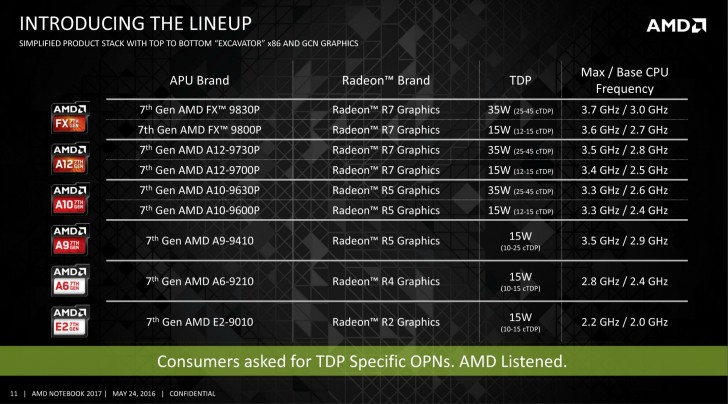 On the graphics side of things, the new APUs come with offers ranging all the way from Radeon R2 to Radeon R7. The number of graphics cores and frequency settings will naturally vary from model to model, but features like Virtual Super resolution, DirectX 12, AMD Eyefinity and AMD Dual Graphics, among others, will be available across the lineup.
D
I don't think the code optimization for Jaguar/Puma cores will work well on the Excavators. In particular the multithreaded FP operations. I also believe there is enough room in 28nm process to significantly improve speed and yields of larger dies, w...