After Ryzen 7 and Ryzen 5, AMD has launched its entry level Ryzen 3 series of desktop processors. The series includes two models, the Ryzen 3 1200 and the 1300X.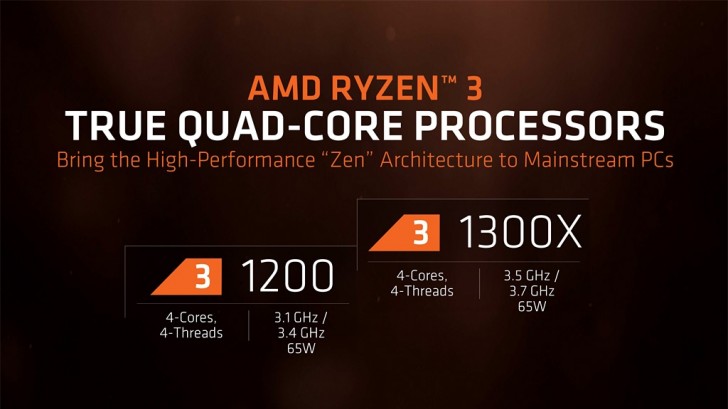 The $129 Ryzen 3 1300X has four cores and four threads with a base clock of 3.5GHz and boost clock of 3.7GHz. It can go up to 3.9GHz with XFR provided you ditch the stock Wraith Stealth cooler and get an aftermarket one like the new $59 Wreath Max with RGB lighting.
The $109 Ryzen 3 1200 also has four cores and four threads with a base clock of 3.1GHz and boost clock of 3.4GHz. Both have 65W TDP.
Both processors are based on the socket AM4 platform and compatible with motherboards using X370, B350 and A320 chipsets.
The Ryzen 3 will be competing squarely against the Intel Core i3 processors, which are all dual core processors with four threads, hence AMD's push on the "true quad-core" branding. Also, both Ryzen 3 models are overclockable and all you need is a standard B350 motherboard, while only one model in the entire i3 range is overclockable and requires a more expensive Z270 board.. The Intel processors do have onboard GPU but most people these days have a discrete graphics card so that's not a major concern.
D
Of course. Man. I7 is a beast. But you have to sell your car to buy it. While amd offers same processing at lower cost. And for an upgrade? Well cheaper on amd. Isn't it?
V
Nice, but no one can beet Intel, Intel i7 CPU are just beasts
M
I believe U'r older person than me, at least 30s. Man, U'r era already finished, it's different story now. AMD no longer associated with short life or heats. Will Microsoft and Sony believe to AMD if their consoles will died in a short time eventuall...
ADVERTISEMENTS