AMD's biggest client at the moment is probably Apple. The chip maker supplied the 2016 Macbook Pro 15 refresh with the Radeon Pro 555 and 560 graphics cards and now has a new Radeon Pro 500 series of graphics cards for the freshly upgraded 2017 iMac.
The new Radeon Pro 500 line, which is based on the Polaris architecture, has five models - from the Radeon Pro 555 with 1.3 TFLOPS of peak performance and 81 GB/S of bandwidth all the way to the 5.5 TFLOP, 217 GB/S Radeon Pro 580 with the Pro 560, Pro 570 and Pro 575 graphics cards sitting in between.
Each of the new graphics chips has more memory bandwidth than the previous Radeon Pro 400 series of cards, which all were 80GB/S.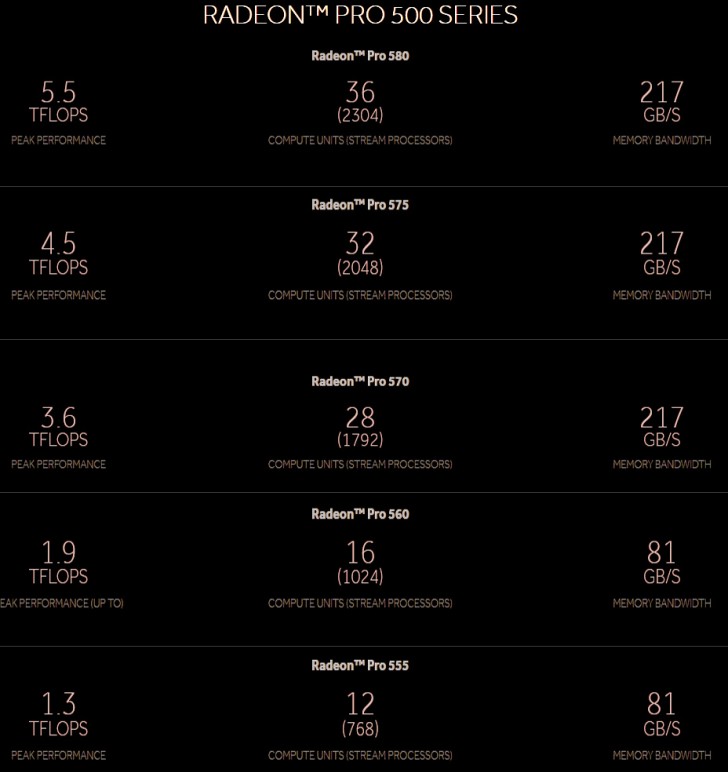 Keep in mind that this isn't the Radeon Pro Vega graphics found in the iMac Pro 2017 - that one is more powerful and based on the Vega GPU architecture.
?
iMac Pro is a beast of a machine
?
Sad that they didn't switch to Vega on those cards already, cause it sounds dope