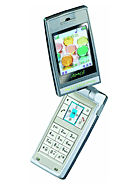 s
wah a wkd fne wah gwan amoi me iz tinkin its bad u getz me .wer can me gets dis fne on pays u go i rly wan it . safe . peace out
v
i like it but where s the infrared, bluetooth,usb cable and 3.15 mp cam??????????????????????????
S
gorgeous design... But i hope there will be more information about this phone...

t
i have this phone and i would like to know how to send my pictures i take on my phone. like put them on the net
J
I've started using this phone a month ago. Everything is great, but the Camera refuses to save pictures, keeps giving message "Failed". That is when I do NOT have any pictures stored in it's memory, except for the ones that came with the phone. The manual does not explain how to fix this problem. And without a camera, it is just like another regular flip-phone!
k
this phone is also called the Amoi DA6 i have the phone, if any one has this phone can you tell me y mine will not recive or send calls ?
s
Great design, nice style and all but wish they were more information about it.
Total of 11 user reviews and opinions for Amoi 2560.