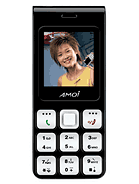 s
I need a battery of this mobile. how can I buy it? I like this mobile a lot
a
this handphone is good.tough.and very light.i like this phone.hehe.its so simple.dont mind about the brand.mine is still ok until now.even the battery is still in good condition except for the keypad.anyway,i got this handphone for free.hehe.


L
Amoi is only good for recycling... Bad sound quality when making calls & phone lags when composing msgs... I was so happy that mine was stolen... Can't wait to see the disappointment is the poor thief's face...
?
amoi phone is very simple to use,just click truoght all its menu.
i changed to another mobile already so not sure how to set.
s
unbelievable good value phone.i got a 1st hand one at S$79 in Singapore.it is cute,it is very light(at 62g),battery(i got a 650mAh one) life very reasonable(4hr talk time,standby up to 5 days).i appreciate the fast charging time at 2 hour.however,no optional fm tuner and 'fake' claimed mp3 ringtone support dissappoints me.
b
mesa thinks this fone great look but mesa tink it got good buttons for NAN! big and like pic on front screeen it look easy use. ta.
B
Hard you this phone to use, me tried and failed. I like P7 Haier. Plz make phone with one button use. simple ones for everyones.
D
Retails at under S$100 in Singapore, this simple fuss free phone scores with its handy small size and unique design. Battery life is average and a lack of FM tuner puts Amoi A310 in a level lower in feature & function than most entry level phone in this price range.
Total of 15 user reviews and opinions for Amoi A310.