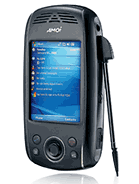 P
Neo, 08 May 2007can u say best phone evr made i love it to bits.... this pda poo's on the rest i had all progr... moredoes the camera take clear pictures capture every detail
c
my god!!! O2 has been copied....not a 3G..haha..worst cellphone maker because its made in china
N
can u say best phone evr made i love it to bits.... this pda poo's on the rest i had all programs running and still no lagging wat so eva
s
i was lucky enough to get to try this pocketpcphone when it was released in china from an oversea friend.my 3 day try was very 'exciting'.
the windows mobile 5.0 did well with the phone.this pocketpc did lag under full operation but at least it got its work done at last.the 2.0 CMOS Megapixel camera could have been better but i don't think you would actually use a pocket pc phone to take pics.wireless and the bluetooth was a 1st i got to try from an amoi product.playing music through the internal speaker was,hm...,interesting but the other amoi music phone(with stereo speakers) are better.battery life,i had no idea.i charge it once a day(cause i kept touching/using it non-stop,kiasu lol).
sad news,its not coming to singapore's market sooner.i miss it lol.
Total of 5 user reviews and opinions for Amoi E850.