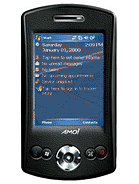 J
I had this device back in 2008, it was really nice, although I hate Windows Mobile. It had a really good GPS system which is pretty rare from my believes. I had two other phones since this one and theirs weren't even near the compatibilities of what this PDA could achieve. This is thing was really nice, I miss it, they should make another one.
W
Anonymous, 06 Aug 2007It looks like a nice phone but has no real features that is worth looking atits a pda!! not a smarthphone!!
Total of 3 user reviews and opinions for Amoi E860.