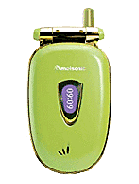 R
great phone to fend off attackers, simply open it up and blind them!!
P
Hooooooo its a very beautifulll phone.
I'love Lemmon Green. Is this my cel. Not have a can but is fashion!!!
I loved!!!

C
i am soooooooo sorry but it makes my eyes hurt , are you people serios ,,,, get a LIFE ,,,,,,,,


SORRY N ALL THAT
S
I bought this for only S$99 from safe Super Store at harbourfront with no contract required. The phone is marvellous, it has built in Karaoke songs, 5 super wonder games, very nice design.

What are you still waiting for? Go and buy before the stocks is gone......
?
somemore no camera, no video, no bluetooth. this phone simply sucks! i think the manufacturer better close shop or he will lose money! stupid creator who creats this phone! simply sucks to the core!
?
something for sure, i wont even take out this handphone even if i got to call someone in life or death situation. this phone simply sucks! i mean, look at the design and color, it makes ppl sick! whoever uses this must have not seen other brands phone. geez!
B
Worst ever fone ive seen in my entire life. I'd rather use a very old nokia!
Total of 15 user reviews and opinions for Amoi F99b.