This could be interesting – a Sony Xperia Compact with a tall aspect ratio screen. This is just conjecture based on dimensions from an FCC certification, but the numbers are lining up beautifully.
The Xperia in question has a 5" screen (126mm) and measures 135.43 x 64.63 mm. For comparison, an Xperia XZ1 Compact is 129 x 64mm – same width, but shorter.

The FCC only gave the display diagonal, not its aspect ratio or sides. However, check out what happens when we compare a 4.6" 16:9 screen (like that of the XZ1 Compact) and a 5" 18:9 screen: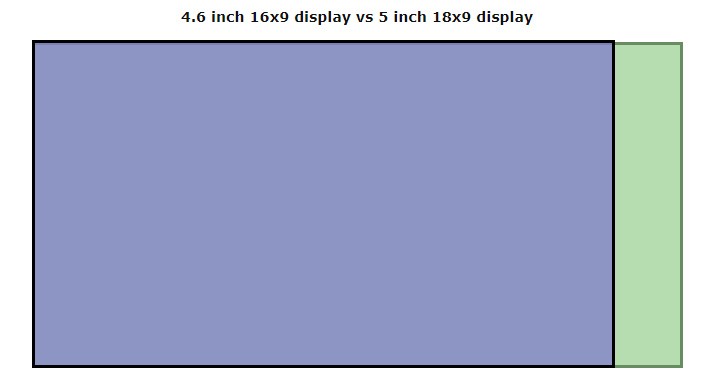 Would it be too optimistic to think this device will show up at the MWC? Perhaps, though this looks like fairly solid evidence that Sony is ready to leave the old-school 16:9 screen behind and embrace bezel-lessness.
You can easily fit 5'' 18:9 screen into 128x64 mm. That would be ideal.
134 mm is a bit too much. It's a whole cm taller than Compacts. 18:9 5'' is 113.6 mm × 56.8 mm, meaning top and bottom bezels are giant - 1 cm each and 4 mm for edge bezels. Which is still a lot. It's not a bezeless device. It's just a taller...