The evidence that the Galaxy S5 will be unveiled at the MWC is mounting fast – now there's an alleged photo of the box the new flagship will come in. Samsung boxes feature key specs on the back and an anonymous tipster claims to have snapped a photo of the Galaxy S5 package.
The specs listed align with previous rumors. The chipset has a quad-core CPU at 2.5GHz and LTE Cat. 4 (150Mbps downlink). This is certainly a Snapdragon chipset and we're possibly looking at the Snapdragon 800 8974AC variety, which packs Krait 400 at 2.46GHz. The box also promises 3GB RAM, same as the Galaxy Note 3 (as can be expected).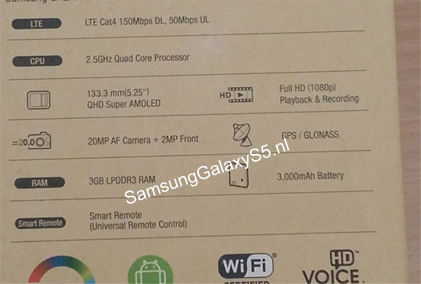 Moving on, the screen is listed as 5.25" QHD (2,560 x 1,600), which is precisely what the latest rumors have been saying. That would push the pixel density to 560ppi, but keep in mind this is likely a PenTile Super AMOLED, so it should have a noticeable visual improvement over the current 5" 440ppi screen.
Same goes for the camera - a 20MP shooter, which is in line with the leaked 16MP photo that had 16:9 aspect ratio (20MP is at 4:3). Strangely, the video capture is just 1080p, we were expecting UHD like the Galaxy Note 3.
The final bit of specifications that the box reveals is Android 4.4 KitKat (no surprise here) and a 3,000mAh battery. There's not a peep about the body material (metal or plastic?).
Keep in mind that this box could have been Photoshopped, but nothing it shows is particularly surprising (perhaps aside from the video capture). The Unpacked 5 event (5, get it?) will be held at 20:20 CET on February 24 in Barcelona. We'll be reporting live from there and you can join in via livestream.
Thanks to Mike for sending this in!
J
Wow, flagship phones releasing this year are going to be beastly.
?
At 560ppi I can finally not complain about pentile anymore, I hated that thing since it was invented, and red text on my Note always annoys me a lot. 20MP would be nice (if it indeed has that much), but I am not satisfied with the 2MP front-faci...
ADVERTISEMENT