According to data from Morgan Stanley's AlphaWise Smartphone Tracker, which was sent in a note to investors, Apple is en route to score a record 39 million iPhones sold in the quarter ending this month.
To put that in perspective Apple was able to dish out 31.2 million iPhones in the same quarter a year ago, which was up from the 26 million of Q2 in 2012.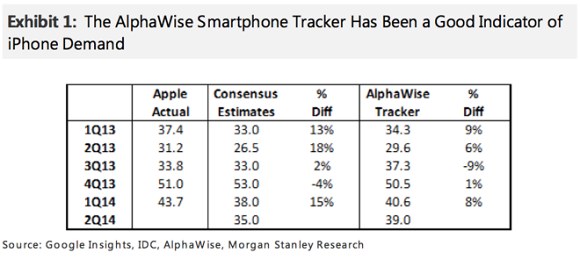 AlphaWise has been almost right on the money with Apple sales and more often than not is closer than the Wall Street consensus estimates which suggested Apple will sell 35 million iPhone units this quarter.
The increase in customer demand could translate into a $2.8 billion gain for Apple just for Q2 - an 8% bump over earlier predictions.
Analysts think that international expansion and carrier promotions are key factors in the increase of demand as well as the release of the 8GB iPhone 5c, which was also involved in a trade-in program in the US in early May.
P
Why not go for windows then?
?
even though I don't use iPHones, i find that iPhones reliability and durablility is one of the best. my girlfriend's iphone 4 has dropped so many times and still working today.
?
isn't it amazing? with just 39m, Apple's phone profit is twice of Samsung!