The Apple Watch pre-orders are in full swing, but the delivery date for new orders keeps slipping back. The principal of Think Big Analytics, Carl Howe, estimates that Apple has sold 3 million units already and now that Quanta has gotten the hang of building watches Howe thinks the company will produce 2 million a month in May and June.
However, Howe says, this will not be enough to match demand. The most affordable Apple Watch Sport will sell the most units, having moved an estimated 1.8 million already. The Apple Watch comes in second with 1.2 million while the expensive Watch Edition is at around 40,000.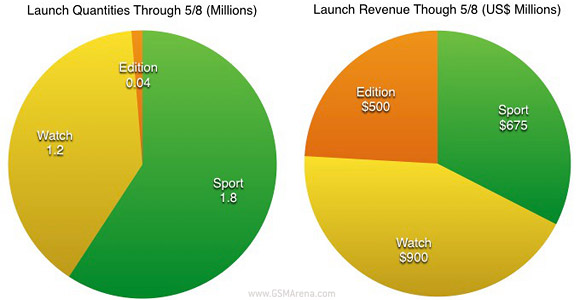 Considering that these three differ mainly on their external case, the margins on the Watch and Watch Edition are much higher than on the Sport. So much so that the estimated revenue (of around $2 billion total) is dominated by the Watch, then the Sport and the Edition is a close third.
Yes, the Watch Edition units have premium gold exterior, but not enough to make up for a significant part of the $10,000 price tag. The wrist bands will earn a good deal of money too and they are a must have as the $550 Watch and $10,000 Watch Edition come with the same plastic strap as the $350 Watch Sport.
m
But that's the point it works in taxes with the phone unlike the android alternatives. And actually I own both android and apple devices along with some watches. But as an android fan boy that you most likelying are you are unwilling to try...
?
yeah with no grounds or proof that what you think is true these will sell in more ifans will really buy it
?
Shipped not sold. Plus most of these are bought by scalpers and will be returned to Apple if not sold. I'd say only 1 million are bought by legit customers.