Samsung had a weak Q2 this year and pointed its finger at cheap smartphones from China saying they've been eating into the company's profits. Seoul-based analyst agency Counterpoint feels there's more to the story – the new Galaxy S5 flagship has been under-performing.
The Samsung Galaxy S5 sold only 5 million units in May and Counterpoint estimates that number remained unchanged in June. The Apple iPhone 5s in comparison sold 7 million units in May, practically the same as the iPhone 5 was selling last year. The Galaxy S4 was able to match the iPhone last year with 7 million units a month.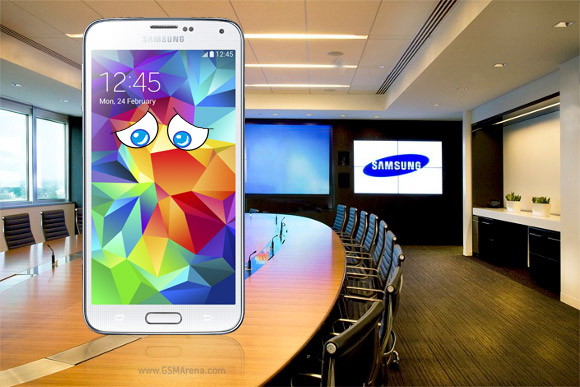 The agency believes the Galaxy S5 fell behind its predecessor because Samsung failed to live up to consumer expectations relating to screen quality and the plastic build of the device.
Counterpoint's numbers show that Apple's premium pricing isn't hurting the company, which is getting consistent sales numbers from its flagship. It's also doing okay with its 4"-only smartphone in the face of Android "phones" with screen sizes ranging from 3" or so all the way to 7".
The agency believes the Galaxy flagship is hurting because the Galaxy brand has been diluted with cheap phones.
If that's the case, the rumored Samsung Galaxy F with a metal body and larger, QHD screen can't come soon enough. There are some conflicting rumors about the Galaxy F though one of the latest claims the new premium line (called Alpha) will be unveiled in a month's time.
T
Iphone 4, 5, 5S, and soon 6. where Apple makes the most money by updating the number on the Iphone. the phone continues to be same or rarely better. Marketing for Apple is its best tool. Keep making money out dummies.
C
You have to accept that Samsung is not competing only with Apple and also with Android OEMs. So the specs race is an cutting edge survival mode for all Android OEMs on premium flagships. And I agree with the bad situation on Samsung producing a lot o...
m
Goodby Samsung.....; My new friend will be coming up iPhone 6 is..
ADVERTISEMENTS