2020 will be tough for phone makers - analysts at CCS Insight believe that 250 million fewer smartphones will be shipped this year compared to 2019. The expected total for this year is 1.26 billion smartphones, the lowest level in a decade, plus 300 million feature phones.
The effects of the outbreak will be felt the most in Q2, which will see a precipitous 29% drop in combined shipments, but issues will continue to the end of the year and will even affect the holiday sales.
Demand hasn't died out completely, despite most consumers staying home and the stores being closed. However, companies are dealing with disruptions in the supply chain, so they can't meet the demand for certain products.
Consumers and businesses are facing financial uncertainties so they will hold off on buying new phones this year. The holiday season is expected to see 3% fewer phones sold compared to 2019.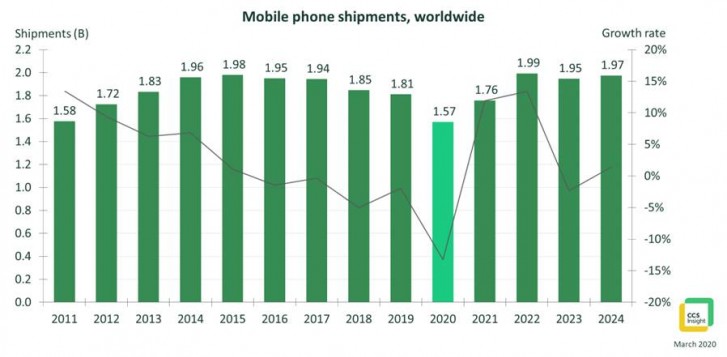 On a positive note, the market is expected to bounce back quickly. The pent up demand from this year will cause sales numbers to grow 12% next year, according to CCS. The boom will carry over to 2022 when shipments will reach almost 2 billion units.
Makers are looking to bring down the prices of 5G phones. In 2020 they are expected to sell a total of 210 million phones, ten times more than last year. Looking into the near future, most phones sold in 2024 will have 5G connectivity (1.15 billion units).
D
Huawei make decent phones, but as a business, they're very sketchy. Sony should improve as Samsung is becoming more like Apple, year by year.
S
Agree! But if I won't find an Xperia or I need an urgent device for someone my second place option is Huawei. These two should thrive in the future. They make true quality devices.
D
Sony are severly underrated and ignored. Yes, their prices are high but they make great smartphones that are consumer-friendly, unlike Samsung with their almost-impossible-to- remove batteries and Apple with their hard-to-replace back glass. Never bu...