Analysts: Xiaomi tops Q2 smart wearable shipments, Apple is in third
The smart wearables market has been growing at a leisurely pace – it rose 8% year on year for a total of 21.6 million units shipped in the second quarter of 2017, both Canalys and Strategy Analyitcs claim.
Xiaomi beat out the competition to claim the top spot for the first time with 3.5-3.7 million units (Canalys) shipped. Fitbit experienced a significant 34% year-on-year slump to 3.3-3.4 million (SA) units. Fitbit's market share fell nearly in half.
Apple, which held close to 50% of the market in 2016, is in third position with 2.7-2.8 million units shipped. Of course, Apple is focused on the premium Watch while both Xiaomi and Fitbit rely heavily on affordable fitness bands to reach those numbers. Apple's numbers are almost double compared to the same quarter last year.
Strategy Analytics
Canalys
Global Wearables Vendor
Shipments (Millions of Units)
Q2 '16
Q2 '17
Q2 '17
Xiaomi
3.0
3.7
3.5
Fitbit
5.7
3.4
3.3
Apple
1.8
2.8
2.7
Others
9.5
11.7
Total
20.0
21.6
Global Wearables
Vendor Marketshare %
Q2 '16
Q2 '17
Xiaomi
15.0%
17.1%
Fitbit
28.5%
15.7%
Apple
9.0%
13.0%
Others
47.5%
54.2%
Total
100.0%
100.0%
Total Growth YoY (%)
21.2%
8.0%
8.0%
Canalys analysts believe Apple will extend its lead thanks to smartwatches with built-in mobile connectivity. Cupertino is yet to release such a smartwatch, but the analysts think that the company's strong ties with carriers will help push the next Apple Watch ahead of Android and Tizen watches that already have LTE connectivity. Strategy Analytics adds that enhanced health tracking will be another boon for the Watch Series 3.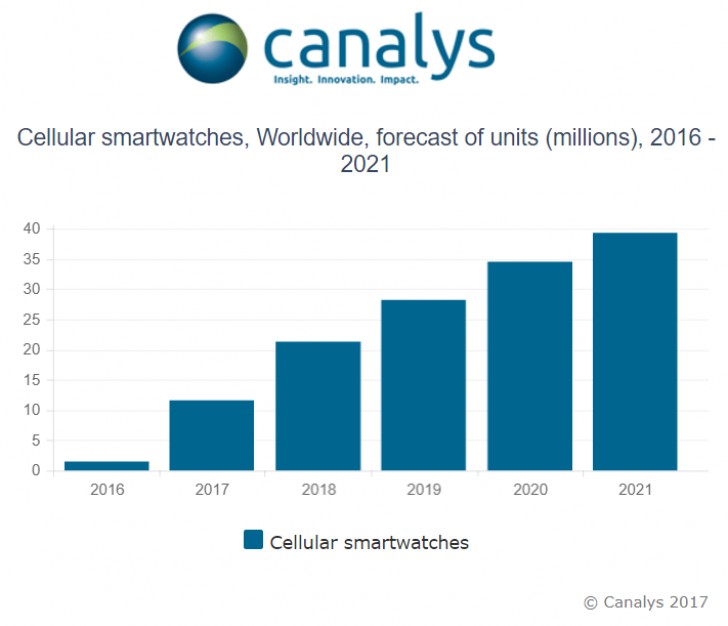 ?
Naa tiny ugly ill shaped lil screen. Find the youtube vids where people were shown $20 Casio watches with the ap$le logo on , and they went wild saying how the quality stands out being ap$le.You can give em anything with that trade mark on, the medi...
D
It is not the only reason you need cellular on a smart watch. Not have to take your phone with you on a run or bike to communicate to others is a major plus for me.
M
No surprises here. Xiaomi's products have quality and true price that nobody else can match.