Finally! Not so long ago Sony Ericsson has announced it was bringing Gingerbread to its Android pioneer – the XPERIA X10. And it is doing just that today, right at this moment, so prepare to update.
Sony Ericsson has skipped the Froyo generation and announced back in March that it was working to bring Gingerbread to its firstborn droid – the XPERIA X10.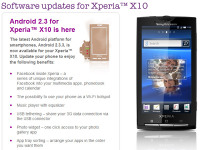 The XPERIA X10 Gingerbread change log
Today the 2.3.3 Gingerbread update for XPERIA X10 has been released for all carrier-independent devices. Just go to your local Sony Ericsson website and check if the update has been made available. We can confirm it is already rolling out in the United Kingdom, Italy, France and Germany, so we guess by the end of the day all the unlocked XPERIA X10's worldwide will get a taste of Gingerbread, yum.
G
I tried several times updating my X10 and its awlays telling me that i'm up to date, tried going to Sony Xperia here in Mall Of Asia( Philippines ) and was advised I cant have it on my X10? Help please.
c
Hallo Alok. Mine also facing the same problem like yours. Has your phone being fixed? If yes then how did you do that. Tq
E
Dude how didu do it? it isnt avalaible in pakistan:S
ADVERTISEMENTS