Google has updated the Android distribution figures on its developer website, which brings with it some good news. The Android 4.0 Ice Cream Sandwich user base has grown to 7.1 percent, up from the 2.9 percent back on April and the 1 percent in January.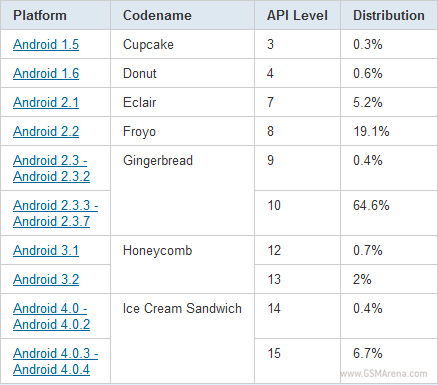 The sharp growth is likely due to the launch of new Android 4.0 devices such as the HTC One series phones, as well as several high-end devices receiving the Android 4.0 update. With even more Android 4.0 devices on their way and more updates planned for current devices, this number will continue to rise.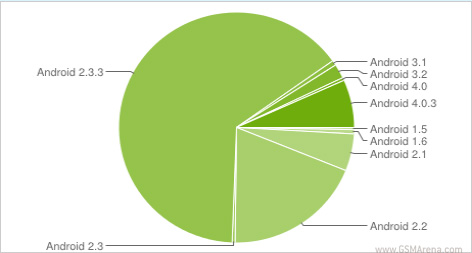 Having said that, it is still abysmally small compared to the user base of Android 2.3 Gingerbread, which runs on a staggering 65 percent of the Android devices out there. Even the two version old Android 2.2 Froyo is found on 19.1 percent of the total user base.

In some cases the OEMs and carriers are to blame for not launching new phones with Android 4.0 even after it was released and for not updating older phones on time. In others, the hardware of the phone is just not capable of running the latest update and this includes all the low-end Android phones, which account for a majority of the Android user base. So while the Android 4.0 user base continues to increase as the total Android user base widens, it doesn't seem like the Gingerbread share is going to shrink any time soon.
Y
Totally agree with you on this one, while WP & iOS all get immediate updates, we on Android have to wait weeks / even months for updates to arrive. And those "greedy" manufacturers pay Google 0 $! And why is this number still at ...
D
7.1 percent is still a failure, while everyone are able to get latest version of Windows 7 easily through Windows Update. When will Google release something like that? How much those greedy manufacturers pay you Google?
S
Updated my neo V to ICS 4.0.3 and then regretted and downgraded back to 2.3.4. Biggest complaints against ics on neo V are 1. Lots of games which used to run smoothly on gingerbread force closes in ics, 2. Ics does not support customised transparent ...
ADVERTISEMENTS