As a bi-monthly tradition, Google has updated the Android user base pie chart on its developer website.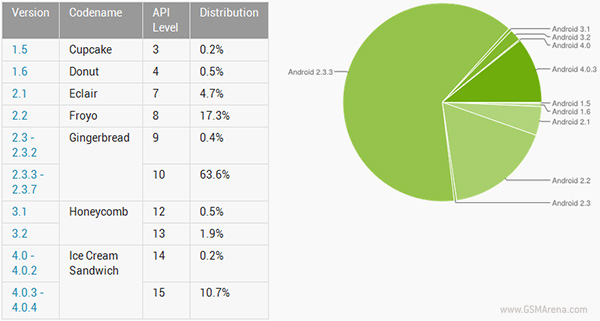 Now there is some good news and some bad news. The good news is that the Android 4.0 adoption is at an all time high. You may remember that we reported last month that the Android 4.0 user base stands at 7.1 percent. In a span of just one month, that has jumped to 10.9 percent, which is quite impressive.
The reason for this could be attributed to several popular new handsets such as the HTC One series and the Samsung Galaxy S III shipping with Android 4.0 out of the box. Also, a lot of the older phones are now finally getting the Android 4.0 update.
Now comes the bad news. Despite the increase in the adoption rate, one can't ignore the fact that Android 4.0 is now 8.5 months old and even then it is still running on 10.9 percent of all the Android devices out there.
Secondly, and this is worse, a staggering 64 percent of Android users are still stuck on Gingerbread, which is 19 months old. And even worse, 17.3 percent of Android users are on Froyo, which was released 26 months ago. And then there are some who are still on Eclair, which was released some time during the Stone Age.
What this tells us is that if you're waiting to get Android 4.1 Jelly Bean on your non-Nexus devices, you are going to have to wait for a long, long time.
G
i upgraded to ICS and its much more smooth and faster than 2.3.5 i like it and it has a good new features
?
I am downgrading back down to Gingerbread. 4.0 seems to have a lot less features and I hate the layout.
t
the answer very simple. people do not buy new phone every month or even every half year. i have the same smartphone for 1.5 year. and he is good enough for me.
ADVERTISEMENTS