Android 4.2 Jelly Bean is now official, following Google's announcement of the Nexus 4 and Nexus 10. There are a lot of new things to cover, so let's not waste any time.
Multiple user accounts
Android 4.2 Jelly Bean for tablets adds multiple user-support to the OS. This way everyone in the household can have an account, which once logged in, welcomes them to their own homescreen, background, widgets and apps. Even the games keep the individual high scores and levels.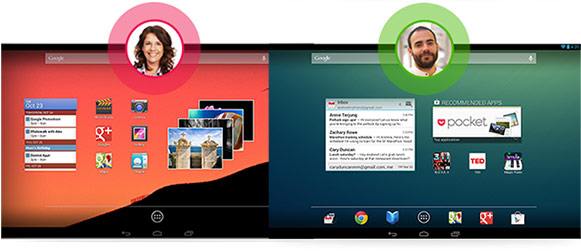 Settings center in the notifications drawer
The expandable notifications were a welcomed addition in Android 4.1, but now in Android 4.2, you can also take various actions like toggling Wi-Fi, adjusting screen brightness, go to Airplane mode, and more.
To do so, just tap on the icon on the top right once you have the notification drawer on. It took Google a while to copy the time-saving feature that TouchWiz, SenseUI and many other manufacturer Android skins implemented a while ago. Still, it's good to have it backed in right into the OS.
Photo Sphere
With Android 4.0, Google introduced the Panorama capturing mode, and now with Android 4.2 Jelly Bean users will get a cool feature dubbed Photo Sphere. It's a panorama mode on steroids and allows you to capture photos in multiple directions (up, down, left, right).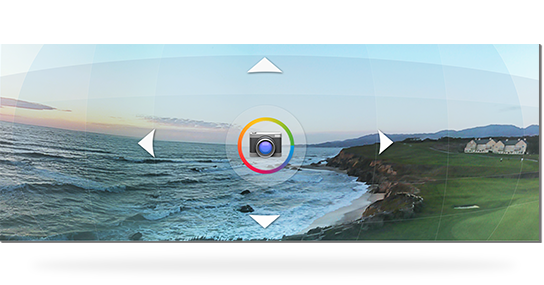 After they've been captured and saved as JPEG files you can view them and navigate around the whole image. You can share the image on Google+ or, if you feel like it, contribute the Photo Sphere to Google Maps.
The feature itself was inspired by Street View, as the Product Management Director for Android Hugo Barra points out. He adds that the photos pack embedded XML metadata in them allowing you to easily share them on Google+ and put them in Google+ photo albums, where your friends can view them as well.
Google Now is updated
Google has added a lot of new cards to its Google Now service. It now can feed data directly from Gmail, which will provide new cards, such as package shipments info.
Google Now also got cards for events, restaurant reservations, hotels, and flights. Some of them, like hotels and flights will be location specific. There are also new cards like movie screenings, concerts, stocks, public alerts and developing stories & breaking news.
Naturally, most of them won't be available world-wide at launch, but make sure that Google will work hard to bring them to more and more places in the future.
Gesture Typing
Forget about Swype, Android's very own Gesture typing is the new cool kid on the block. It works in a manner very similar to Swype -- you just Swipe your finger over the letters you want to type, lifting after each word is complete.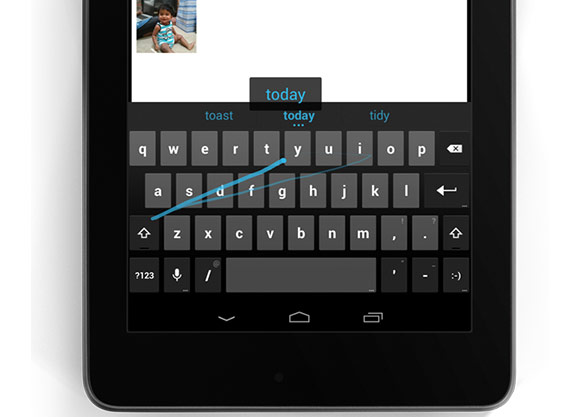 Naturally, the Gesture Typing feature benefits from the already existing Android word prediction, so you can just click on the words the keyboard suggests. This comes in addition to the offline voice typing service that Google offers, which makes for an all-round great messaging experience.
Wireless TV integration
Better late than never, finally in this version of Android Google has allows you to wirelessly share the screen of your phone or display with a big screen TV set.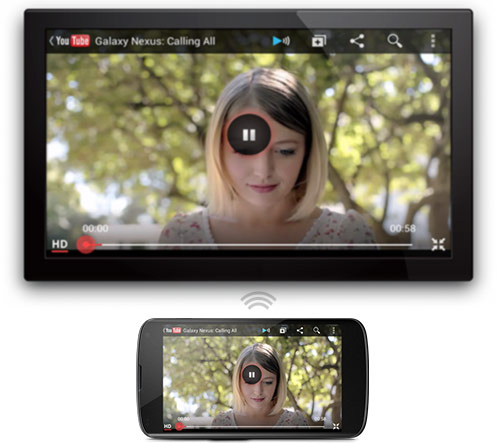 All you need to do is connect a wireless display adapter to an HDMI-enabled TV and then it'll start mirroring whats on your screen using DLNA. The new feature uses the Miracast protocol for streaming.
It's another feature most customs launchers had, but is only now making its way to the platform itself.
Widgets on the lock screen
Widgets are a major part in Android and now you can assign a widget on the lockscreen as well. Think of the Music player widget on the lockscreen, but now you can assign another one there, so it's always just a click away.
Daydream
Android 4.2 Jelly Bean isn't just business and no play. Google has integrated a little feature called Daydream, which is simply a sort of a screensaver. Once turned on, you can set it up to show photo albums, latest news from Google Currents and more when the device is either docked or idle.
Various improvements
Android 4.2 Jelly Bean has a lot going for it, including some minor additions. You can now use pinch-to-zoom in Gmail for enhancing reading, triple-tap to magnify the entire homescreen and the pan and zoom with two fingers, as well as added speech output and gesture mode navigation for the visually impaired users.
Expect Android 4.2 Jelly Bean to start its roll-out once the new Nexus family of devices goes on sale on November 13.
k
It's possible to get the latest update 4.1.2 from 4.1.1.... I did it in my phone it is possible. ...
D
Got a 4.1.x or 4.2.x device ? U can show off your rich notifications anytime using 'Jelly bean notifications demo' app from playstore ! https://play.google.com/store/apps/details?id=in.co.praveenkumar.jellybeannotificationsdemo
S
Got my Samsung s3 and Jelly Bean is upgraded in it. Can anyone tell me if 4.1.2 will be possible to update with again? It was possible to upgrade from ICS to Jelly Bean 4.1.1 but from 4.1.1 to 41.2 will it be possible?
ADVERTISEMENTS