If there's one thing you can give credit to HTC for, it's being quick with the Android update on the HTC One. After years of lagging behind Google with respect to the latest updates, the company has been consistently quick in delivering updates for their newest flagship device.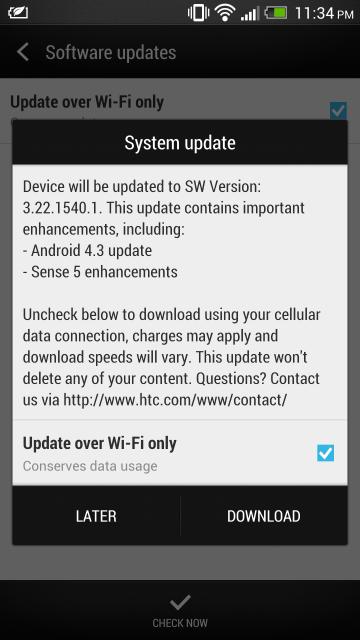 Earlier this week the company promised that they will soon start rolling out the Android 4.3 update for the HTC One. And as promised, users are now seeing the update notification pop up on their device. Several users on xda-developers forums are reporting getting the update on their phone.
If you have an HTC One, check if the Android 4.3 update is available for download, if you haven't got the notification already.
Thanks Dijon Vula for sending this in.
D
...i actually just figured the 2 finger zoom out. I needed to make the subject wider by spreading my fingers apart and it worked. what I was doing incorrect was the 2 finger pinch which was trying to make the subject smaller and it was alreay at ma...
D
I received my 4.3 update last week in New Jersey, USA and lost the use of my camera zoom. I read about a 2 finger pinch but it does not seem to make the zoom reappear. Any help is greatly appreciated.
D
The two finger pinch worked for me to get my zoom back...but a pain to have to keep doing this before i csn take a zoomed picture. :-(
ADVERTISEMENTS