Samsung has just started seeding the official Android 4.4.2 KitKat update for the Galaxy S4. The Exynos-based GT-I9500 is the first version of the device to get it, but we expect the Snapdragon 600-running I9505 to taste KitKat shortly after.
Naturally, the update process is gradual. Russia and India, being the two markets where the I9500 model is most popular, are the first countries to get it. If there are no hiccups with the update, more countries should join them shortly.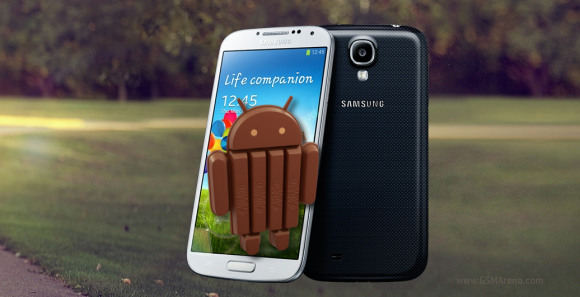 The new Android 4.4 firmware will bring you all KitKat improvements and enhancements (Project Svelte), better lockscreen with support for full-screen music album art and a dedicated camera shortcut, some minor UI updates (monochrome status bar icons) and improved stability.
The build date of the KitKat firmware is February 13, 2014 and you should have about 1GB free space in order to install and update.
Now that the official roll out has started, we expect even more Galaxy S4 models to jump on the KitKat bandwagon very soon. Samsung USA has announced which devices are going to get Android 4.4 KitKat, so if live in the US you might want to check this list.
Thanks to everyone who sent this in!
S
http://www.ideas.singtel.com/pdf/Android%20devices%20postpaid%20&%20prepaid%20APN%20settings.pdf
h
Guys So S4 Will be updated to kikat
E
Dear friend, if you have received the current 4.4.2 kitkat update please let me know. And if there is any issue during and after installation I wud like to know also. Am in Nigeria. Ikos232@yahoo.com. Thanks.
ADVERTISEMENTS