Testing over folks, the Xiaomi Mi Note is getting the Android 6.0 Marshmallow update soon - should be tomorrow!
The Developer Edition already received the update and itís firmware version MRA58K. The MIUI interface is at version 7, no surprises here.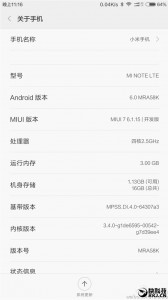 A screenshot of the updated About screen
Keep in mind that this is for the Xiaomi Mi Note, not the Note Pro.
a
Me too,also nv get 6.0,check wit dem said wait. Also for the Xiao mi mi note said got 6.0 yestdy,I try alsodun hv. Whu ever do this wan go n get thing done all first.
A
What is the problem with Samsung? So many phones of each and every company have got android 6 what is this shit Samsung waiting for? I have note 5 and i heard it will get update last year in December 2015 and now January 2016 is also nearly over. Ple...