Android 6.0 Marshmallow continues to grow and last month it cracked 15%. It's still miles behind KitKat (29.2%) and Lollipop (35.5%), but the gap is closing.
All versions prior to 6.0 lost numbers, with pre-KitKat versions still powering one in five of all Android devices. Jelly Bean (v4.1 to v4.3) in particular is still bigger than Marshmallow with a combined share of 16.6%.
At least those versions get somewhat advanced features through updates of the Google Play Store. Antiques like Ice Cream Sandwich, Gingerbread and Froyo are thankfully almost extinct.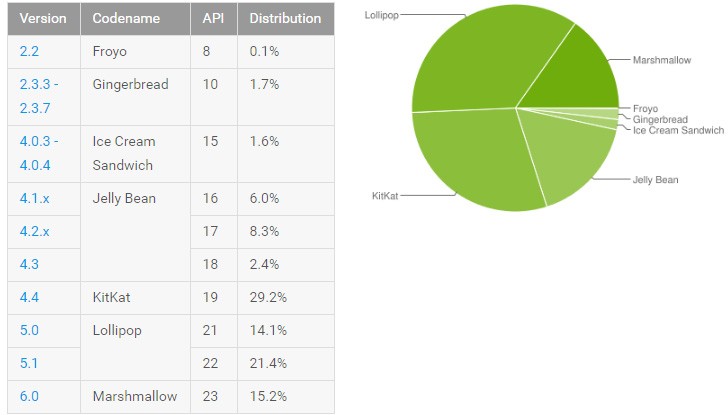 Soon, Android 7.0 Nougat will launch and the whole story of "latest Android version has tiny market share" will start all over again.
OpenGL is still mostly at v2.0 (46%) with v3.0 almost matching it (42.6%) and very few phones are at v3.1 (11.4%). I wonder if Google will add Vulkan to these stats - phones are already starting to support it (including the Galaxy Note7). Vulkan requires Marshmallow, though, so that will slow its growth.
D
nah..most ppl come here are normal, non-technical smartphone user, most of them dont even know what is cyanogenmod
D
I use those features a lot, if you think that charging your contactless public transport card isn't a useful feature, well, I can just be sorry for you...
ADVERTISEMENT