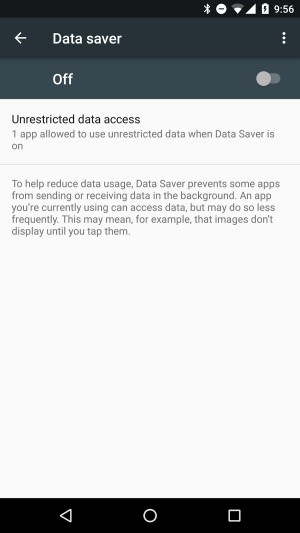 Android has had a data saving feature baked into the OS for a while now. The way it works is simple. Set the date that your bill cycle ends, set your warning limit, and then set a hard limit. Android will discontinue the use of cellular data once you hit the pre-specified limit. This would ensure that subscribers donít hit their data caps by the end of the month and avoid overages. Simple right?
Marshmallow introduced a more refined version which allowed specific apps unrestricted access to data even when the data saver is switched on. In Marshmallow, switching the Data Saver on would allow more control over the data usage of specific apps.
Well, Androidís Data Saver feature is about to get smarter. Starting with Android Nougat, data saving will become smarter and actively work toward conserving your data. As well, over the years, there are more subscribers that find themselves on structured data plans as the all-you-can-eat unlimited plans are becoming a thing of the past as smartphones are demanding more data. As a result, carriers are realizing how expensive data is.
The new Data Saver in Android Nougat will check to see what kind of plan you are subscribed to, and it will be able to limit the amount of data any specific app is allowed to use up. Likewise, you can whitelist any apps you wish to be excluded from the data saver. The new Data Saver will even be able to detect if you are roaming out of your home area and insert a local prepaid SIM.
The new features have been discovered by changes noticed in the ďConnectivityManagerĒ API in the Android Nougat SDK.
Android Nougat is rumored to be released this month according to @evleaks. On the flip side, the first device said to feature Android Nougat 7.0 out of the box is to be the LG V20 which is rumored for a September 23 release.
Does iOS 10 have a basic data limit feature yet?
Can wait for Cyanogenmod 14 to hit, Bacon is gonna be even better :)
Battery saver sould let us limit how many cores and how much ram we use, Nvidia got it right with cores.