Android 7.1.2 beta adds swipe down gesture to Nexus 5X fingerprint reader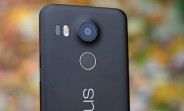 Android Nougat 7.1.2 has been out for a few days now and is already seeding to most compatible devices. The Nexus 5X is still on the waiting list for the beta, but it should be coming shortly as well.
The update itself was thought to be rather small and light, however, the Nexus 5X did receive an unexpected new feature that the Nexus 6P will likely get too. It is the convenient swipe gesture for the fingerprint reader. Just like on a Pixel, it can now be used to bring down the notification shade, without having to reach all the way up to the top edge of the screen.
This was missing from the initial Nougat update for Google's previous generation devices and many speculated the gesture could actually be tied to an absent hardware feature within the reader itself. Luckily, that wasn't the case and the option now resides under Settings > Moves in the Nexus 5X menu.
As a quick reminder, you can join the Android beta program at android.com/beta.
D
called a joke, obviously caring that much about something like this is bad enough mate, calm yourself
?
Will this reduce the battery life?