A new Xiaomi smartphone - dubbed riva - has been spotted in a benchmark listing. The listing on Geekbench reveals the device is powered by an SoC with quad-core 1.40GHz processor, and has 3GB RAM.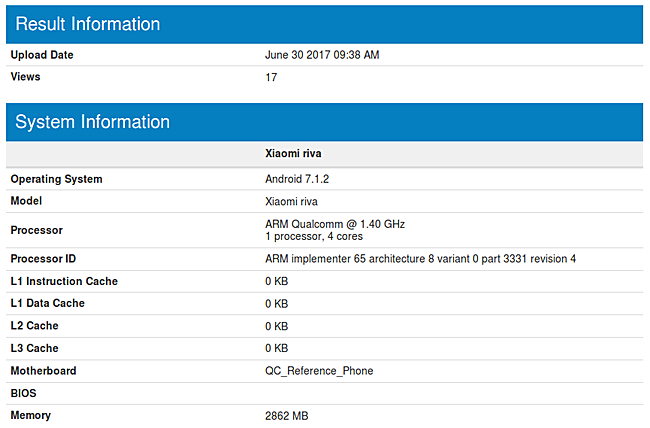 Other thing worth noting is that the phone runs Android Nougat (latest version: 7.1.2). Sadly, and as is usually the case with Geekbench listings, nothing else was revealed. However, given that the device has started appearing in benchmarks, we expect to hear more about it sooner than later.
j
it doenst have always to be run at full speed clock so maybe still holds some fact there as fotr the procie info
D
There were rumors a while back about a 4.6 inch phone called Xiaomi S. This could be it, which would be very exciting.
S
Snapdragon 450 is octa core not quad core and clock speed is 1.8 ghz not 1.4 ghz so it can't be Snapdragon 450 and it could be either Snapdragon 425/427, some MediaTek SoCs or maybe new Xiaomi in house SoC.