Android 9.0 Pie beta rolls out to Galaxy S9 and S9+ in South Korea [UPDATE]: USA too
Update: Samsung also launched the Beta in the US so we can see the changelog in English.
Aside from detailed changes in various Samsung stock apps, the update uses Samsung's new One UI which includes gesture controls and a more reachable interface with tabs and buttons at the bottom.
Unicode 11.0 emojis are now supported, as well as new clock styles and charging information in the Always On-Display. Meanwhile, Samsung DeX was updated to support dual-display (You can still use the phone while connected via USB-C to HDMI cable). Check out the rest of the changelog: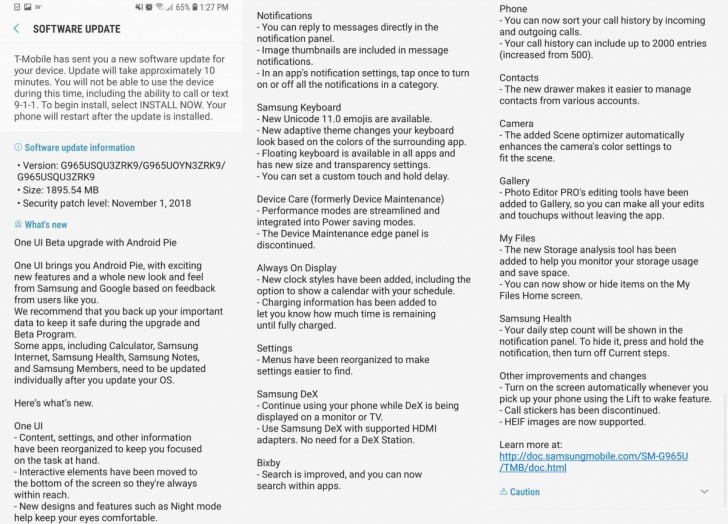 Source: SamMobile
Original story follows below:
It's starting – Samsung is rolling out a beta version of the One UI update to Galaxy S9 and Galaxy S9+ phones in South Korea. This update brings with it Samsung's revamped interface built on top of Android 9.0 Pie, plus several other improvements.
Samsung DeX is free from the dock and can be used with any USB-C to HDMI adapter. Another neat change is that you can tune the camera's color rendering to your liking.


Change log for Galaxy S9+'s Android 9.0 Pie update (in Korean)
Note that some of the Samsung apps will need to be updated through the Galaxy App store. They have new functionality too. For example, Samsung Pay now has a new interface to manage debit cards. Also, Samsung's file browser can analyze files in the phone's storage and help you clear out the cruft (similar to Google's Files app).
It's a pretty massive upgrade, about 1.6GB, so it will take a while to download and install. Again, this is happening in Korea right now, but should expand to other regions.
f
Samsung don't contributes to open source anymore and running Android on the devices more like a Frankstein derivate
-
Sooooo glad I'm on Tmobile here in Texas,downloading as I'm typing!!!