While there are many cars that support it, Android Auto isnít really available to everyone unless you buy a shiny new car or replace your head unit with one that supports platform.
A new update has been announced for the Android Auto app that will allow you to use your smartphoneís screen as an Android Auto radio unit. Complete with UI and voice commands. The only thing your car will need is some way to connect to its speakers (i.e. Bluetooth streaming or AUX input).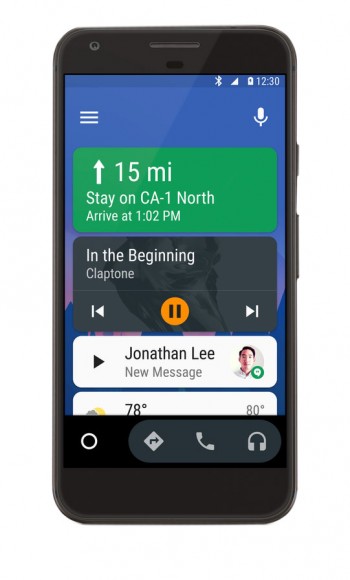 Once you mount your phone to your dashboard, start the app. The UI will change to a more glanceable, driver-friendly version with large buttons and efficient interface. You can also ďOk, GoogleĒ for voice commands to control navigation, quick text messages, or start playing music on Spotify, all hands-free. You can even set the app to start whenever Bluetooth connects to your carís speaker unit.
In the coming weeks, voice commands will be ironed out to ensure the smoothest and safest operation. And the update is currently rolling out across 30 countries where Android Auto is available. If youíd like, you can also sign up for email notifications once the Android Auto app becomes available in your region. Otherwise (thanks to the flexibility of Android), you can sideload the APK over at APKMirror.
Itís great that Google is expanding the Android Auto experience to more people. It makes it easier for users to take advantage of Android Autoís connected-driving without having to invest in a compatible radio system.
D
Hey! Awesome Post, this is the really nice post. Android Auto app is the best app for the both car and your Smartphone.email support Thanks you share the information about the Android Auto app.
D
It took me a while to find the perfect sizes of the pods and the loops to use but when I did, phone holder
?
even the paid media can't hide completely apple and micro mess ups, google is your friend.