Android distribution chart for April shows close to 5% share for Oreo
Google has released Android distribution numbers for the month of April. The chart shows Oreo's market share now stands at 4.6%, while that for Nougat is 30.8%. Marshmallow, on the other hand, currently has a market share of 26.0%.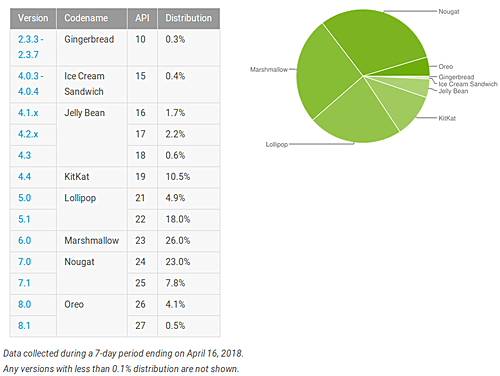 Among older versions, Lollipop is at nearly 23%, while KitKat is at 10.5%. Share for Jelly Bean, ICS, and Gingerbread is 4.5%, 0.4%, and 0.3%, respectively.
It's worth mentioning that it was February when Google last released these numbers. For comparison, Oreo was at 1.1%, Nougat was at 28.5%, while Marshmallow's share was 28.1% a couple of months back.
?
I'm about to do the same, been an Android user for years but it seems like Google and their partners will never change.
B
And this is the very reason loads of people who buy iPhones are called iSheeps. You have 0 knowledge about the android yet bashing it instead of learning about what and how to do. I can't believe people like you still exist in 2018 when you ca...
?
So glad I decided to get an iPhone instead of Android when I switched from Windows. Android is a joke of an OS. It can't even achieve Windows phone level of features, design, user experience, updates, etc., but hey! It's got an impressive collection ...
ADVERTISEMENTS