Android distribution numbers for December show Nougat at 0.4% of the market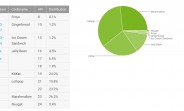 Today Google has updated the Android platform distribution chart, as it does every month. So we now know how much market share each version of the company's mobile operating system had over the past week.
Let's start with 7.0 Nougat, the latest iteration of Android before today. It's now at 0.4%, a 0.1% jump compared to where it was in November's chart. Today Google has outed Android 7.1.1 Nougat for Pixel and Nexus devices, so we'll probably see that release in January's chart. At the moment there's still only one version of Android that has less devices running it than Nougat, and that's Froyo, which is more than six years old.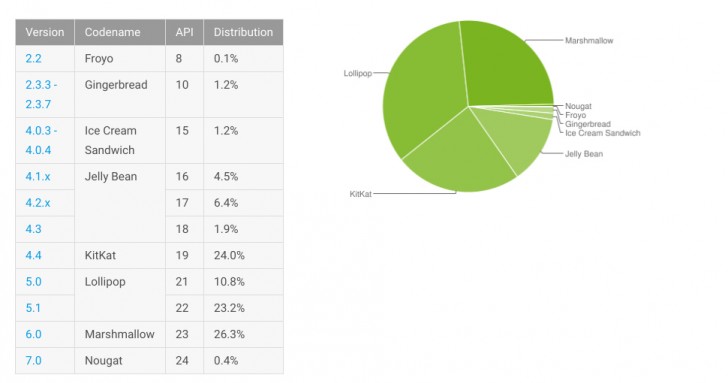 Marshmallow is now at 26.3% of the pie, up from 24% a month ago. Lollipop has 34% market share, down 0.1%. KitKat has dropped to 24% (from 25.2%), while Jelly Bean now makes up 12.8% of the market, down from 13.7%. Ice Cream Sandwich went from 1.3% to 1.2%, as did Gingerbread.
Hopefully we'll see more Nougat updates from various Android device makers soon, helping that version take up more and more of the pie.
D
These numbers are meant for developers, so they know which versions to support/drop. Which devices that CAN run it, isn't much of use.
D
The update in January will show a growth of Nougat, as custom ROM's has been released in December. The update in February will also show a growth of Nougat, as some phones will officially get the upgrade in January.
?
I have two android phones. One is running Marshmallow, one Lollipop. Very satisfied user. Especially Marshmallow is very smooth.