According to market reasearch company Kantar Worldpanel, Android is the dominating force in the top five European countries accounting for well over 70% of the market. The UK, Germany, France, Italy and Spain are not the only countries where the Google platform extended its market share, though.
Spain and Germany is where Android is the most popular in Europe. The green droid powers 92.5% of all smartphones in Spain and 76.7% in Germany. iOS penetration there is 4.2% and 15.0%, respectively.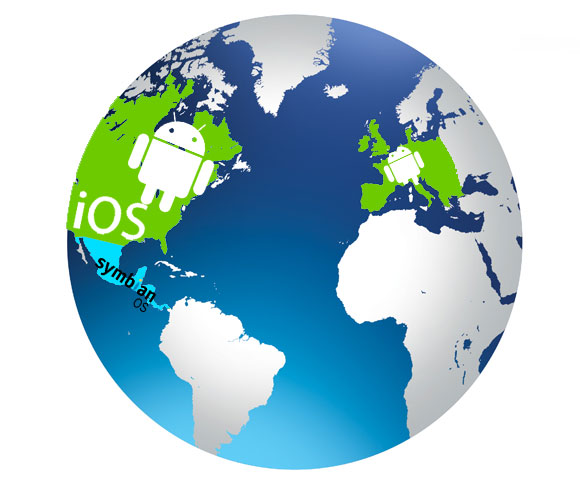 Windows Phone usage is picking up in Europe, too. The platform grew an average of 2.5 percent points in the polled EU countries, with its share in Italy already standing at a healthy 9.7%.
Rather unsurprisingly, Samsung is the major culprit for Android's success, responsible for nearly half of all smartphones sold in those five countries.
In China, Google's mobile OS is also a clear leader, with over 70% of all smartphones running Android. iOS takes up 23.6%, while Windows Phone and Symbian record 2.9% and 1.3%, respectively. Interestingly, BlackBerry is doing pretty bad in the country with just 0.2%.
Apple's iOS is holding strong in the US, with 41.9% of the market, 3.5 percent point rise over the same period of last quarter. Android also marks a rise, albeit very small, from 51.9% in 2012 to 52.0% this year. BlackBerry and Symbian have seen their shares evaporate, while Windows Phone slowly but surely gains traction. Microsoft's mobile OS usage in the region has gone up from 3.7% to 4.6% for the period.
It's worth noting that Symbian usage in Mexico is peculiarly strong, considering that Nokia has announced it's dropping support for the OS. In fact, it's used by 10.3% of the people with smartphones, right above iOS which accounts for 9.9%. BlackBerry sits in second place with 11.3%, while Android is the undisputed leader with 60.3%.
Check out the complete usage table below.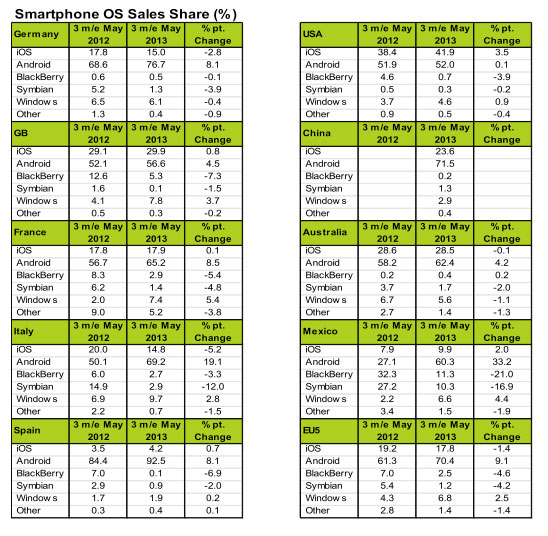 n
i like windows 8 it is easy to use as a user of nokia l920 ,it is one of the best fone
D
I just changed my Nokia with symbian two months ago for a Galaxy S3; Nokia has a very good reputation here in Mexico, I think that as a factor of the Windows Phone penetration here.
ADVERTISEMENTS