Yet another month passed and Google is quick to release the statistics on the distribution of the different Android versions. April's most rapid development saw KitKat gain some 3.2 points, bringing its overall market share to 8.5%.
The three Jelly Bean distributions had mixed fate – 4.1 dropped 0.9 points but still remained the most widely adopted version with its 33.5% share. 4.2 actually expanded its share by 0.7 points to 18.8%, while 4.3 dropped 0.4 points and is now tied with KitKat at 8.5%.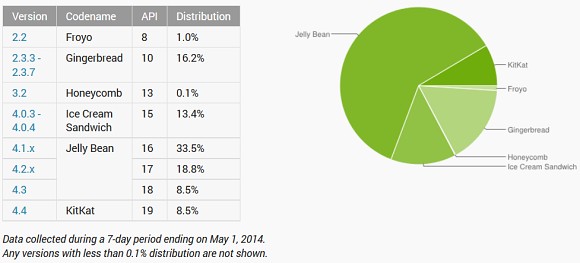 As you could expect all releases prior to Jelly Bean kept losing ground – Android 4.0 Ice Cream Sandwich went down by 0.7 percent points, Gingerbread lost 1.6 points and Froyo dropped another 0.1 points. Honeycomb is still stuck at 0.1% share – it will remain there until Google pronounces it officially extinct.
?
Mega will receive Kitkat in June as revealed by Samsung
c
When LG V2 update to Kitkat?
D
I've been with Android since the 2.1. I think 3.0 was the turning point. It's only getting better.
ADVERTISEMENTS