Google released the latest numbers for Android OS distribution and announced that the way this statistic is gathered will be changing the next time around.
First things first, Android 4.1.x Jelly Bean has jumped from about 15 share to 23% share, catching up to Ice Cream Sandwich, which grew slightly to 29.3%. The growth was under 1%, but it's surprising since its share dropped in February.
Gingerbread fell under 50% last December but is still the most popular OS at 39.7%.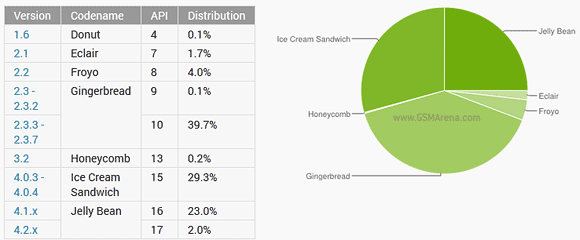 The latest branch, Android 4.2.x Jelly Bean carved out a 2% share over the 14 day period that ended yesterday (up from 1.2% from the previous report). It's only the Nexus 4 that officially comes with 4.2 right now, but the upcoming launch of the Samsung Galaxy S4 should see a sharp rise in adoption.
Starting this month, Android will measure Android share by counting how many users manually open the Play Store. Previously, every check-in to Google services was counted, even when it was initiated by an app in the background.
Google argues this new way of measuring things will reflect the number of people interested in downloading apps more accurately.
Google also keeps track of screen sizes. The overwhelming majority (80%) is centered around 4" and most displays have 240ppi or 320ppi pixel density.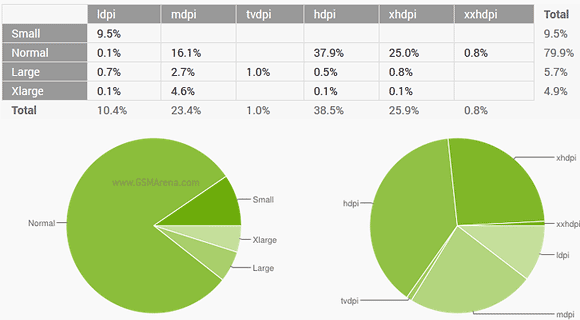 You can learn more about Android OS version distributions here.
B
it's April and still only some Asian countries and a handful of other countries have JB for the N7000 Note...
D
I am not saying that the carriers and manufacturers are not partly to blame, they most certainly are, but Google don't exactly help. If I remember correctly one Nexus device got licensed by Google and updated to JB from ICS within a week. Another Nex...
D
why 4.1 & 4.2 grows slow ? because this OS update just for high-end device user only. if you want to increase 4.1 & 4.2 grows, than you must share the OS for midlle-end or maybe some low-end and that will grows Jelly Bean user.
ADVERTISEMENT