While Jelly Bean and ICS combine for almost 60% of the Android landscape, it's still Android 2.3 Gingerbread that accounts for roughly 36.4% of all Android handsets used in May.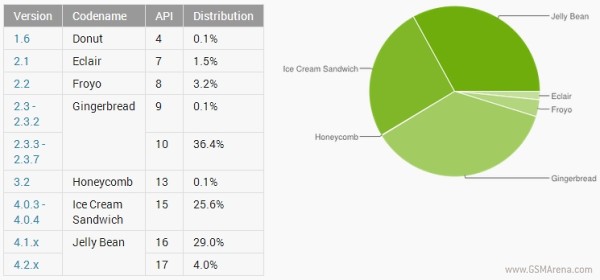 While the gap between Jelly Bean and Gingerbread has narrowed over the last month (4.6 percent point increase and 2 percent point decrease, respectively), it's clear that Gingerbread devices will be around for quite a while. Android 4.0 Ice Cream Sandwich has gone down by close to 2 percent point as well, likely losing some of its share to Android Jelly Bean upgrades - a trend which should continue in the coming months.
It's important to note that starting last month, Android usage calculations are based on the number of devices which manually access the Google Play store, rather than background activations through the Google servers, which arguably is a more accurate reflection of the Android landscape.
m
4.04 isnt that bad on my sucky 800Mhz runs pretty well acutually
J
C'mon now. Jelly Bean is free of lag, at least on my SGS3. Fast as h*ll! Only poorly programmed apps are able to crash the phone, but the Android system never crashes. Also my battery lasts easily for 2 days with medium use. Maximum battery life has ...
D
I hate my ics 4.0.4! Lol
ADVERTISEMENTS