According to the latest report by the analysts from Nielsen, Android enjoys the highest usage among smartphone platforms in the United States, followed by iOS and BlackBerry OS.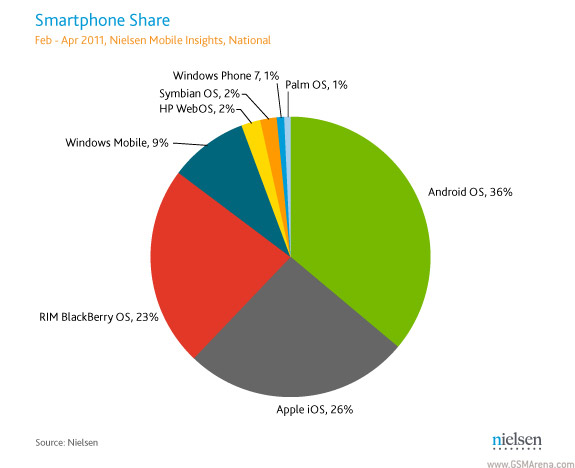 Some 36 percent of US smartphone users have an Android smartphone. In comparison, 26% are using Apple iOS devices, whilst 23% are using RIM's BlackBerry OS.
The remaining 15% of the smartphone pie is shared between Windows Mobile, which still has a decent 9% user base, and by WebOS, Symbian and PalmOS collectively. It's a little disappointing to see Symbian despite being the oldest platforms here and still very much alive unlike the now defunct Windows Mobile having no more than 2% market share. Same goes for HP's WebOS, which deserved a lot more success than it received.
Android's overall domination comes as no surprise really, considering the huge number of Android devices out there and new ones coming out almost every other week now. Apple's iOS, on the other hand, has so far been restricted to a handful of devices, ten to be precise, with four versions of the iPhone and iPod touch each and two versions of the iPad, launched over a period of four years. RIM too has a fair number of handsets under its belt and has been around much longer than the other two. We are sure if this chart showed smartphone users across the world, however, the difference between Android and iOS would be even higher as Android phones are available in lot more areas compared to iOS.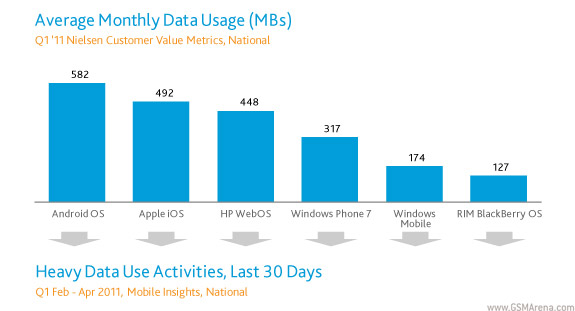 Nielsen also has some more statistics for us, including the data usage of all these platforms and once again Android is leading the race with 582MB of monthly data usage compared to 492MB of iOS and 448 MB of WebOS, which has raced past others for the number 3 spot.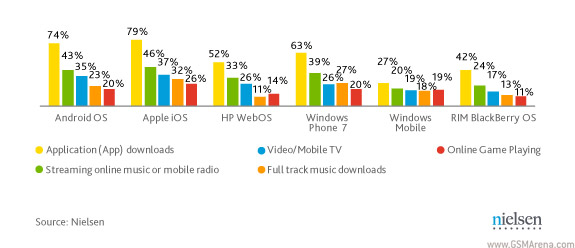 Another chart shows us that app downloads consist of a major portion of the data that is downloaded on these phones, with audio streaming coming second and video streaming in third position.
Source
u
Wether is android , IOS, symbian or Window ...ect all up to individual user all operating system are great . They have their advantage n disadvantage . These is no need to compare . I do have smartphone running Android and Apple iPad. Both are great...
D
Those "handsets can be had for $20.00 or less new and off contract" are S30. A bit higher, also S40. Both are NOT Symbian - and in its lower price range (which is also mid to high range of S40 "feature phones"...) you can now very...
A
Yes you´r right Android is failing that´s why it´s THE most used Os in the US and possibly in Europe too.Get real Android is here to stay and it´s going to out live symbian BY FAR.Meego is NEVER going to see the light of day b...
ADVERTISEMENTS