Popular analyst company Nielsen has published its report on the US smartphone market in the second quarter of 2012. The quarter saw smartphone growth continue as two thirds of all new customers picked a smartphone.
Android continues to be in lead, powering 51.8% of all US smartphones and 54.6% of the ones purchased over the past three months. And that was the quarter before the Samsung Galaxy S III was launched.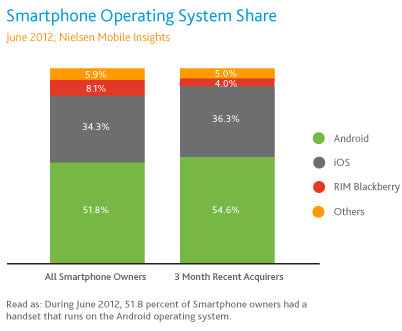 iOS is the other platform on the rise, with Apple's OS accounting for 34.3% of US smartphones and 36.3% of the newly acquired ones. Expectedly iOS is starting to lose pace in the third quarter of iPhone 4S availability, but things are bound to change once the iPhone 5 comes out.
BlackBerry is the only other platform on record by Nielsen and it continues its free fall. While the RIM OS still powers a respectable 8.1% of US smartphones, it only managed a market share of 4% with new subscribers. This means that it might soon join the dreaded "others" category, officially turning the US smartphone market into a two-horse race.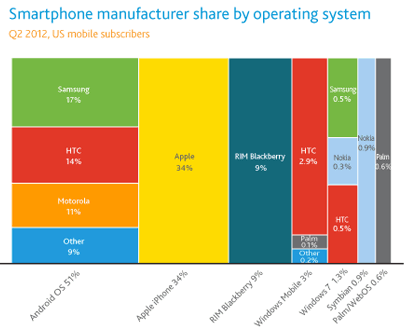 As for the platform that is hoping to escape that category - Windows Phone - only managed a market share of 1.3%. The Nokia Lumia lineup is still struggling to make an impact, covering just 0.3% of the market, despite the heavy promotion of the Lumia 900 by both the Finns and AT&T.
D
haven't we already heard this stuff about windows phone os previously??? ur predictions have never come out to be true. so why dont you wait and see if windows 8 really has any chance of beatind android rather than bore us with the same crap again an...
T
RIM still has a massive market share in countries like Indonesia, India, South Africa, and no doubt other. I use a BB9900 and a Samsung Note, but for security in business etc it is a BB or nothing. Frankly I dont have the time to spend all day play...
D
I am sure it won't, especially after what Microsoft done to current WP7 user.
ADVERTISEMENTS