Analysts at Canalys are done crunching the numbers and released a report on the state of mobile phones in the final quarter last year. Phone shipments (438.1 million units in total) were flat year on year, but that's at the expense of feature phones. Smartphone shipments went up 37% and made up half of all handsets sold.
There were 216.5 million Android phones in the mix (69% of smartphones and 37% of all phones). That's a decline compared to the last quarter of 2011, when Android commanded 74% of smartphone shipments.
iOS (chief competitor of Android) went up from 15% to 22% share of smartphones shipments for the quarter (11% of all phone shipments), riding on the success of iPhone 5. BlackBerry and Windows Phones are at the bottom with 4% and 2% shares respectively.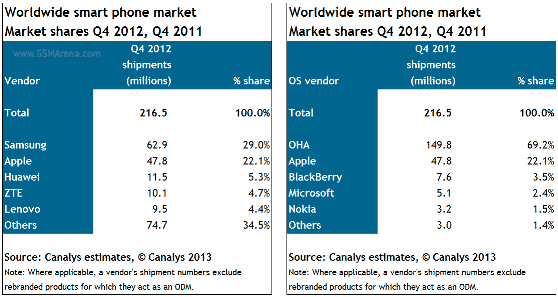 There was some reshuffling of smartphone players in Q4 2012. Samsung and Apple were on top, but Huawei snatched third place (first time for the company), ZTE took forth while Lenovo elbowed out Sony for fifth. Lenovo's shipments for the quarter grew 216% year on year to 9.5 million units, almost all of which (98%) ended up in China.
For the whole year, Samsung ended up on top in terms of smartphone shipments with 74 million units more than Apple (which took second place). Nokia held on to third with 35 million units total.
China is the biggest phone market in the world, with people preferring smartphones with the number of units shipped more than doubling. Samsung took top spot with Lenovo, Yulong, Huawei and ZTE following. Apple is having a tough time in China, mostly due to the higher price of its smartphones and lack of support from China Mobile, according to Nicole Peng, China Research Director at Canalys.
M
LOL Instead of your pathetic try trolling me, all you need to do is to visit Orange UK pay monthly phones web page and to check six different HTC phones and TEN different iPhones.
?
*facepalm* He didn't say that at all. He should have gone into more detail because it seems you really do need an explanation about simple things. Apple released ONE new iPhone last year. According to your faulty logic they released 6. 8GB, 16GB...
?
I definetely think Windows Phone will gain significant market share in the coming months. It's already grown a lot and will continue to do so. BlackBerry 10 has had good sales but I highly doubt they will return to the game. Also, pretty much most of...
ADVERTISEMENTS