Android Pay has added another 16 financial institutions, surpassing the 1,000 mark, now stranding 1,012.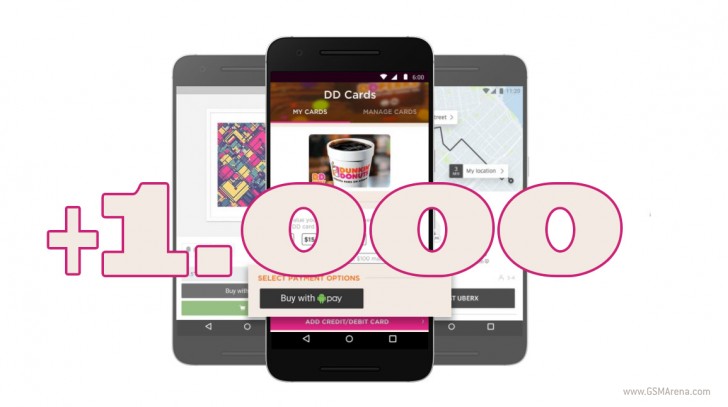 The service is adding banks, retailers and institutions in the US, UK, Canada, Russia, Belgium, Japan, New Zealand, Singapore, Australia, Poland, Hong Kong, Taiwan and Ireland.
The list of supported businesses (and countries) is ever growing but there are more than a few that are still holding off, namely Barclays Bank in the UK. So far Apple has been more instrumental in adding support for its Apple Pay than Google has been with Android Pay.
Here's the latest additions to the Android Pay eligibility list. You can check out the source link for the complete list.
Chevron Federal Credit Union
Collins State Bank
Diebold Federal Credit Union
DuGood Federal Credit Union
First Federal Bank
First State Bank of Mendota
Hawthorn Bank
Litchfield National Bank
Pentagon Federal Credit Union
People's Choice Federal Credit Union
Peoples Bank
Progressive Savings Bank
Sidney Federal Credit Union
TBK Bank
Vacationland Federal Credit Union
Washington Financial Bank
D
Samsung should have renamed Samsung Pay as something else, and used a different company to push forward it's sales. Is so much better than everything else out there, and if it wasn't named Samsung, other Android companies would have been tempted...
o
what exactly does this mean? why does google need to do so many partnerships with so many banks?
C
Is this about bragging your Apple's achievements Fanboy? The main discussion talks on Google's partnership with the 1000 financial institutions. Lets keep it that way. Nobody cares.