Android Pie files hint at the foldable Galaxy phone and Snapdragon 8150 chipset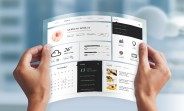 An investigative member of xda-Developers obtained some revealing core files buried deep in the Android 9.0 Pie update coming with the Samsung Experience 10 UI for the Samsung Galaxy S9 and Galaxy S9+. They mention four Galaxy S10 models and an additional one codenamed "Winner."
The foldable Galaxy handset is no secret, especially when Samsung confirmed that it's looking to release the innovative phone before the end of 2018. So with just three months to go, it's only logical for the company to have already begun its development of the device's software.

Unfortunately, though, there are no details about the phone except for the "_us" suffix on the file's name, which is a possible hint at US market launch. It's too early to tell whether or not the foldable Galaxy Winner will make it to the international scene. But if rumors are to be believed, the $2,000 price tag of the device hints at limited market availability.

Aside from that, there is solid evidence suggesting that the new Galaxy S10s are being tested with Qualcomm's upcoming flagship chip called Snapdragon 8150. Yep, you read that right. Qualcomm is once again changing its naming scheme so the next chip is reportedly being called Snapdragon 8150. It's also safe to assume it will feature the Snapdragon X50 modem supporting the new 5G network standard. And besides, next year's Galaxy S10 lineup will surely pack the latest and greatest - not the already aged Snapdragon 845 and Exynos 9810 chips.
Nah, its because the Kirin chipset is produced by HiSilicon, Huawei's in house CPU maker. Huawei said they had no plans to sell to others
?
A compact foldable phone will be a winner for Samsing, phones are too big nowadays may as well get a tablet
ADVERTISEMENTS