Android Q's 'Scoped Storage' requirement for apps pushed Android R in 2020.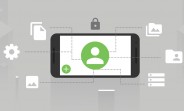 Android Q introduced a new security-focused feature called "Scoped Storage". This feature is introduced with Android Q and changes the way that app interact with the device's storage. Basically, with Scoped Storage, each app would have its own 'sandbox' storage where it can run and store data. In turn, the apps would be limited to the sandbox and wouldn't have access to other parts of your storage.
In its current state, Scoped Storage is causing issues with Android Q beta 2 users. Apps installed on the first beta worked just fine in the compatibility mode, which doesn't enforce the storage restriction. Once beta 2 rolled around, Android was enforcing scoped storage across the board, causing apps crash if they were removed and re-installed.

Google was set to require all developers to use the latest API for their apps before the final release of Android Q, but that deadline is too soon, and a vast majority of developers won't have time to update their apps before then. For this reason, Google has decided to slow down with implementing this feature.
The transition for Scoped Storage will be gradual, instead. Developers will need to adopt the new API in their apps over the next year so they can be ready for the release of Android R.
Scoped Storage allows apps to run without requiring special permissions and keep user data secure. We are glad to see Android take further steps to protect user data.
A
We had it before anyway. If you don't grant the permission, the app can't write to the storage and leave traces. The difference now is that it's harder to leave traces after removal. Apps can still reach media files using the same permission (whi...