Analysts have crunched the numbers and revealed the state of the mobile world in Q2 of 2012. Canalys released a report that mostly talks about China - and with good reason too, as the country broke the record for smartphone shipments for a second quarter in a row.
On the world stage, Android is increasing its lead against the competition - it powered 68.1% of the 158.3 million smartphones shipped globally in Q2. It's interesting to point out that the smartphone shipments in Q2 of last year were almost exactly the same as the number of Android phones shipped this year.
Shipments of Apple smartphones increased 28% year on year, but market share fell by 2.5 percentage points. BlackBerry OS was a distant third with 5.4% of the market, while Symbian and Windows Phone had 4.1% and 3.2%, respectively. Bada isn't that far behind WP with 2.1%.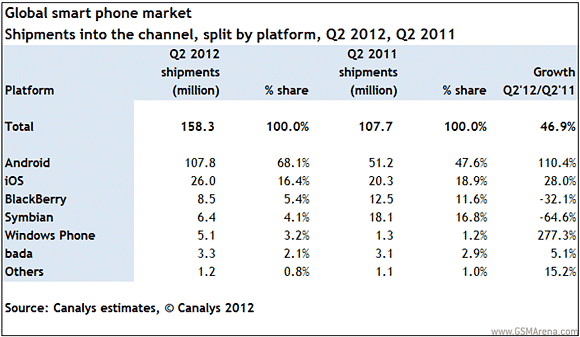 Samsung maintained their position as the top smartphone vendor by shipping 31% of all smartphones. The company is largely responsible for Android's growth - they accounted for 45 million of the 107.8 million total droids shipped.
Apple and Nokia were second and third respectively, while HTC snatched the fourth spot from RIM. Huawei and ZTE are seeing phenomenal growth in China, but according to Canalys, they couldn't make it into the top 5 worldwide, which kinda contradicts ZTE's statement on the matter.
Speaking of China, 27% of smartphones were shipped in China - compared to just 16% in the US. A lot of that came from local makers - ZTE, Lenovo and Huawei - placed second, third and fourth on the local market, respectively. Together, they accounted for about a third of all the shipments in China, but Samsung managed to hold onto their top spot by shipping 17% of the smartphones there.
Meanwhile, Apple slipped into fifth place in China, but they are just making first steps on this market and their shipments went up 102% year on year. Nokia's shipments in China tumbled down by 47% and Motorola aren't doing too hot either. HTC's shipments went up by 389% year on year, but they still totaled just 1.8 million - just a fraction of the 25.6 million shipments by the aforementioned Chinese makers.
Android is the OS of choice in China, with a dominant 81% share of the market. For more, check out the report from Canalys in the source link below.
Y
Hahaha! Good sarcasm! If it's not then you're one deluded champ! To put this 277% yearly growth into right perspective: Windows Phone has been sold on 3.8 million smartphones in one year, while Android has been sold on 56.6 million smartphones....
?
Steve Wozniak is simply a fan of tech, and is not bothered about branding or platform. Good tech is good tech in his opinion although he of course has a special place for Apple in his heart. I believe Win will make huge inroads in the tablet are...
G
Good luck to Windows, although with Microsoft making WP7 models obsolete, I wonder what the future holds for WP8 users. I'm thinking of getting a Nokia 710 because they're going for around £110-130 used. As for some of your points: 1....
ADVERTISEMENTS