Apple finally adds support for the Apple Music app to work on Android tablets. This comes just a few days after Amazon announced Apple Music support on all its Echo smart speakers – just in time for the holiday season.
Apple made the right move by offering its Music service to Android smartphones back in 2015 when it launched in beta on the Play Store. After all, why limit the number of subscribers? There's a whole second market that can be catered to: those who don't want, or can't afford an iPhone but still want Apple's premium music subscription service.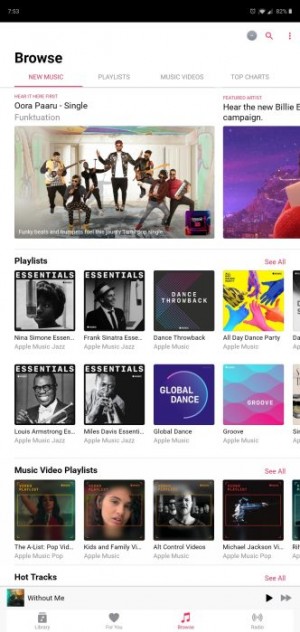 According to 9to5Mac, the latest Apple Music update version 2.7 removes the "hambuger" menu in favor of tabs placed along the bottom of the UI, which makes it much easier to compensate for larger displays on tablets, hence the new support for these oversized Android slabs.
If you're an Android tablet user that has waited for Apple Music support to arrive, let us know in the comments!
b
ihave 6 plus and z3 compact tab.. Using Apple music on TAB with same apple id. Little draggy feel now and I reported. wait and see for support. Till people like to hear original quality music by paying. Apple Music is a clean - HISS free - volume b...
d
Wonder if Apple will put FaceTime on Android. Apple music has too many competitors in the Android space and I can't imagine an Apple fanboy buying an Android tablet
N
Any way to make tapping play store link to open play store not website? On this site when i tap play link just open website