Android v2.0 otherwise known as Eclair is official and there's a long list of improvements it brings. The camera interface got revamped and it's now well equipped to handle high-end cameras. The browser got a major update as well, as did Bluetooth and many other aspects of the OS.
The improvements in the camera department sound great - there are detailed flash settings, macro shooting mode, scene modes, white balance, color effects and digital zoom. Without these things a high resolution camera barely made sense with Android's limited camera options, but now it's ready for the big league.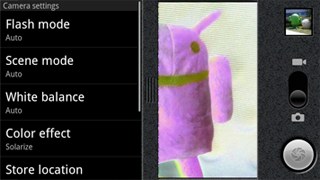 The new camera interface
The Android browser was already among the best mobile browsers we've seen and with Android 2.0 they've made it even better. For one, leaks of the updated version seemed promising.
The browser got partial HTML5 support, including the interesting video tag support. YouTube already has a demo up and running, which uses HTML5 instead of Flash to show videos. Even though it's just a demo, the interface is a replica of the Flash version, both visually and functionally. It works only in desktop Chrome and Safari so far because it uses the MP4 codec. Many mobile devices have hardware acceleration for that codec, so this could be the replacement of the mobile version of YouTube, which offers only low-quality videos.
There are other general improvements as well. As of v1.6 Android will support various screen resolutions, so it's no longer stuck with HVGA displays. The virtual keyboard has been rearranged to increase accuracy and to further improve typing speed, the multi-touch support lends a hand (it doesn't say if this multitouch support will bring things like pinch zoom or not). The dictionary also learns from you and offers contacts names as suggestions.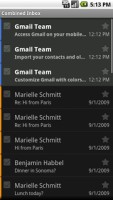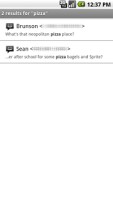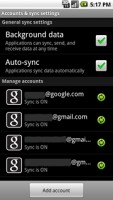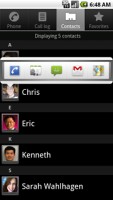 Combined inbox, searching through messages, syncing with multiple accounts and Quick Contact
Another thing that was missing in Android's arsenal was proper Bluetooth support, but v2.0 brings support for sending files as well as the Phone Book Access Profile, which allows car kits to download the phonebook and also display the name of the caller. We even saw a demo, which shows the makings of a Bluetooth multiplayer game too.
Here's a video, which shows how the contacts were improved, and the game demo we mentioned:
Messaging was also improved with a combined inbox, search through SMS and MMS messages and easy synchronization with multiple accounts (including Exchange accounts).
Android v2.0 is shaping up to be a great update, now if only someone would give a definitive answer which devices would be upgradeable to 2.0. HTC are already hard at work on an Android v2.0 device and we can't wait to see what will they come up with.
?
nice UI but i still choose Symbian. i`m waiting Symbian Open Source
?
Amazing. WinMo and Android are starting to become the best mobile OS's i've stayed with symbian and now even Apple's Mobile OS is boring WinMo and Android who would have thought
?
where would i find these roms ??
ADVERTISEMENTS