The most recent study by CIRP confirms that Android is still in the lead when it comes to user loyalty in the US. This has been the case since 2014, although things were pretty close in 2016.
Last year, 91% of Americans who replaced their old Android phone went with another Google-powered device. For iOS, 86% of users stuck to the Apple-made OS.
Familiarity plays a part – once you get used to an OS, it's easier to stick with it than learn the quirks of another OS. The apps you've purchased from its app store are another anchor – you'll have to buy them again if you switch.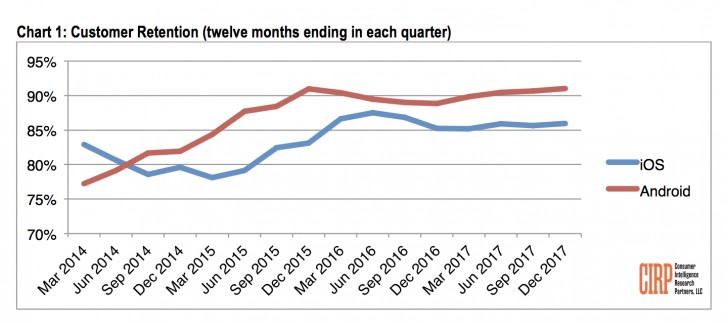 Android is better off in this respect as there are dozens of companies that make Android phones. Some stick close to stock and offer a familiar experience, others customize Android to the bone, so there's room to experiment. iOS is an Apple platform that runs solely on Apple hardware and that's it.
Interestingly, CIRP partner and co-founder Mike Levin says that services play a huge role. Things like storage – iCloud or Google Drive – could be a major reason not to jump ship. Now, says Levin, Apple and Google need to figure out how to sell more services.
D
And none of those are major updates for 5s. It received forked out features, or mostly didn't receive any.
?
Good observation. I think you can estimate the data you are interested from the loyalty number and market share number.