Android will rule the smartphones, WP7 will be second, says Gartner

According to the analysts over at Gartner, Android will be the most popular mobile OS in the next four years reaching almost 50% market share. Meanwhile Windows Phone will catch up and overtake the second place from iOS by 2015 with 20% market share.
This is what the latest Gartner's report predicts. Quite expectedly the Symbian market share is shrinking rapidly, while those of Android's and Windows Phone will go up.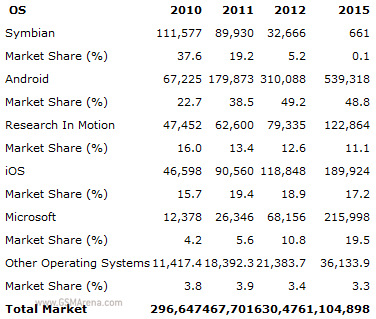 Apple's iOS will have the second place by the end of 2012, but Microsoft will overtake it by 2015. It seems both Android and iOS will lose some users in favor of Windows Phone. It's predicted that when this happens Apple will change its pricing policy in order to maintain its share.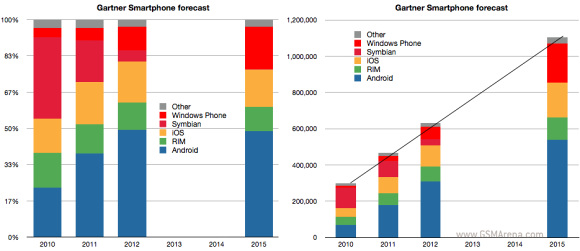 RIM will also have a user withdrawal when its migration from BlackBerry OS to QNX, the OS behind the Playbook, starts in 2012 (we're not sure we've heard of those plans before) .
It seems there will be two major changes in the next four years - Android will be the king of the mobiles (eating the Symbian pie), while the Microsoft-Nokia cooperation will push the Windows Phone up to the second place. It seems logical, but we'll wait and see how things will turn up.
We already saw quite similar predictions in the IDC report a week ago. There are a few minor differences into the distribution of shares (a bit smaller Android share and a bigger Windows Phone one in 2015), but both reach to the same conclusion – Android will be the biggest player in 2015 and Windows Phone will beat iOS for the second place.
Another thing that is worth mentioning is we could expect doubled smartphones sales in 2012 (compared to 2010).
It seems Gartner also didn't foresee any major players entering the smartphone market. Just like the IDC report, the Gartner's one also doesn't see Bada OS as a major player in the next four years. Another think that pops in mind is they think Apple will sit back and stay calm when it's losing market share. What we are trying to say is there are just too many variables and not all of them were taken in consideration. So these predictions might apply in some version of our world, but can't be a reliable source in our dynamic life.
V
Lol, funny to read in 2015, they didint expect what Nokia will dissappear and blackberry will cover some small niche market :)
R
See this statatics, and think about nokia not loosing market share only operating system, And compare to andriod Micro soft operating, and mac si always best, Andriod is the worst opertaing system only for app and enterinment, no use
ADVERTISEMENTS