Today, Google made a blog post about Spotify integration with alarms in the Google Clock app. Starting today, you can set an alarm clock to wake you up with a Spotify playlist, or you can choose from Spotify's curated morning playlists.
After you shut off your alarm, the Clock app will even give you the option to continue listening to the music that just woke up you so you can get ready with your jams.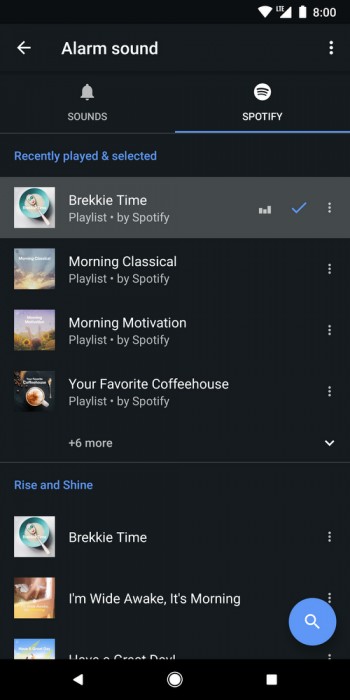 What's interesting is that Google decided to release Spotify integration before its own Google Play or YouTube Music streaming services. Perhaps Google wanted to test it with Spotify users before it invested the man-hours needed to include its own streaming services.
The integration will roll out globally over the next week, so make sure you have the latest version of both the Clock app and the Spotify app. We don't see the integration on our Pixel 2 just yet. You should see a tab for Spotify when choosing an alarm tone on an individual alarm entry.
Do you see the integration on your device? Let us know what phone you're using in the comments.
Oh, thank you finn!
n
Samsung Galaxy J3 2017 - I can't see the Spotify Tab in the Google Clock App.